American Whiskey
Touring Kentucky's Bourbon Country
February 1998

An American Outpost
---
James B. Beam Distilling Co.
Clermont, Kentucky

The Jim Beam Distilling Company is located in Clermont, only a couple miles from Bardstown, but a mistake in interpreting the map on their brochure caused us to get there by way of a long, circuitous route that led us nearly all the way back to Louisville. When we did finally arrive, about forty-five minutes before closing, we were afraid we had missed the last tour. And indeed we did... by about sixteen years. It seems the Jim Beam Distillery hasn't offered actual tours since 1982, but the two uncharacteristically pleasant ladies in the visitors' center made sure that we were able to see everything, even the film, before they closed up. The film was carefully crafted to present a down-home feeling, as we listened to Booker Noe (sixth-generation master distiller and James B. Beam's grandson) explain to his grandson (representing the eighth generation) the heritage and traditions that he will inherit when the torch is handed down to him. Of course, the film does fail to mention that the grandson will inherit only corporate stock, since the family sold the the distillery to American Brands, an international conglomerate who also produce DeKuyper cordials, as well as Moen bathroom fixtures, Swingline staplers, and Titleist golf balls.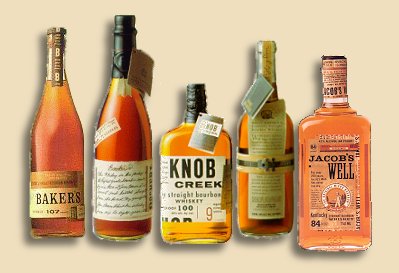 Another disappointment was that the famous collection of specialty decanters, which Jim Beam has maintained for years, adding one or more new ones annually, no longer exists. Even the collection itself, over 600 of which were once on display here, was removed some time ago. The ladies remember the collection, but do not recall just when it was taken away. The disappointments, however, were not enough to offset the enjoyment we had. Just smelling the air was a pleasure. And the guest relations staff here was far more cordial and friendly than those at the smaller Maker's Mark distillery, even though we kept them late.

From Clermont, we drove straight home. Well, except for a stop on the way at our favorite liquor store in Covington where we bought a couple bottles of... guess!
Story and original photography copyright ©1998 by John F. Lipman. All rights reserved.