American Whiskey
September 17 - 20, 1998 -- The Kentucky Bourbon Festival
---
The Seventh Annual
Kentucky Bourbon Festival
Bardstown, Kentucky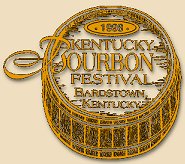 Several thousand people came to lovely Bardstown, Kentucky this weekend to enjoy the Seventh Annual Kentucky Bourbon Festival held here, and among them were Linda and I, along with our friends Amy and Bruce Yevak of Pottsville, Pennsylvania. The festival, lasting from Thursday through Sunday, is a celebration of one of Kentucky's most important industries, and one which Kentucky utterly dominates in the world market, the production of Straight Bourbon Whiskey.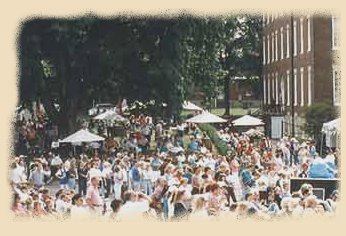 For four days, there are display and souvenir tents set up by the various distilleries, and also many local artisans and craftspeople. Most of the shops in town decorate their display windows with Bourbon themes and exhibits. Music fills the air as local and regional bands play blues and rock 'n' roll for people to dance. Demonstrations of barrel-making and other crafts are held. Food, ranging from hot dogs and ice cream to grilled steak sandwiches is available. Like most such civic parties, beer is available for adults, but at this festival a multitude of different Bourbon whiskeys can also be purchased.

There are hands-on demonstrations of cooking (using Bourbon of course) by some of the finest chefs in Kentucky, car races at the Bluegrass Motor Speedway, and a free, top-name country music concert, this year starring Tanya Tucker and Trace Adkins. There is a great attraction known as My Old Kentucky Dinner Train, open all year, which puts on a special dinner for the festival and also runs a separate ride where robbers hold up the train and excite younger visitors.

The festival is also a time when upper management, owners, and master distillers from across the entire industry can meet with buyers, major hotel and restaurant management, and other VIPs. In addition to the street fun, there are some rather pricey events held at local hotels and a very elegant $100-a-plate black tie Bourbon tasting and gala (reservations for which were sold out months in advance). Also a $100-per-person golf tournament. We did not participate in these events this time, although we might like to attend the gala some year.

We've been waiting all year for this weekend, and we have quite a few things planned in addition to the festival itself. Our friends arrived at our home Wednesday evening, and we all set out on Thursday morning for the 2½ hour ride to Louisville. We took two cars (which later turned out to be a wise choice), Linda and Amy driving in the red Neon and Bruce and I in our very recognizable bright yellow Ford Splash pickup truck.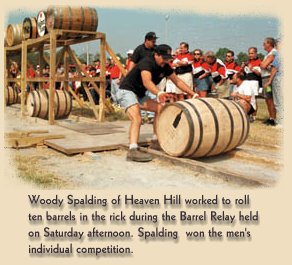 The Bourbon Festival and its highlights are our central point of reference this weekend, with our other activities planned around them. So, even though we spent time visiting and seeing distilleries, horse farms, Fort Knox, the pool at our motel, and other sights, we continually returned to events at the Festival site. Although virtually all of Bardstown seems to be involved in the festivities, the main center of activity is on the grounds of historic Spalding Hall, which also houses the Oscar Getz Museum of Whiskey History and the Bourbon Festival headquarters. Here is where the craft and display tents are set up, the food stands are here, as is the stage where the bands play. Barrel-making is displayed in a clearing in the center of the tent area, and the championship barrel-rolling contest is held in the municipal area just adjacent.

On Friday, we stopped into the Oscar Getz Museum early to visit with Mary Hite. Even though she was a-flutter with last minute preparations (such as the mural-sized photo enlargements that turned out to be the wrong size and had be be reprinted... this morning) she graciously found time to chat with us and even introduced us to Mike Veach, the museum's historian. We commented on how much the expansion has progressed in just the few months since we were last here. At that time they were just beginning to build exhibits in some of the rooms on the north side of the building. It was exciting to see some of the items we'd seen stacked in a corner of the office now proudly displayed on the wall. The old and empty, but salvageable, display credenza we had seen before is now clean and lighted and contains rare items from Oscar's extensive collection. Of course, just those few months ago our own small whiskey collection occupied an old dresser bureau and three shelves of Linda's spice cabinet -- it's also progressed a bit since then. We introduced Amy and Bruce to the history of whiskeymaking in America, as tour guide Jo Beam lead us from room to room on the museum tour.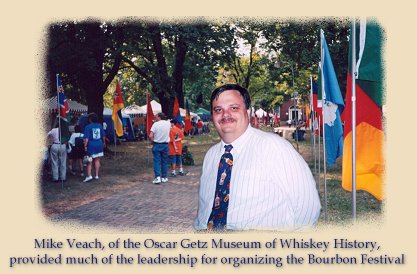 Spalding Hall also hosted the two events that Linda and I were most eager to attend, the Bourbon Heritage Panel on Friday and the Master Distillers' Auction on Saturday. These are wonderful activities to see (and join in, since that's the whole point of both), but also just a bit awesome and unnerving. I had a chance to meet and talk with Bill Friel, master distiller from Barton Brands, Jimmy Russell, master distiller at Wild Turkey, Ova Haney, master distiller emeritus at Four Roses (who was the first to tell me that Four Roses Straight Bourbon was at last available in America again for the first time in forty years, and who invited us to visit the distillery for a tour!), Ed Foote, master distiller at United Distillers, and Max Shapira, owner of Heaven Hill. All of these people, along with Sam Cecil, retired Vice President at Maker's Mark and Chris Morris of Brown-Forman, were also on the panel of distillers who answered questions from an enthusiastic audience as they (the panel, not the audience) sampled a very special whiskey presented by Mike Veach, who emcee'd the event.

Mike had had envisioned that the panel should conduct a tasting. But, since this was a very special panel, Mike arranged for a very special tasting. At each participant's seat was a snifter glass and a water glass, and also a small, very real document... an actual, filled out and signed, United States Federal Government Medicinal Spirits Prescription form from the 1920's. Besides being collectors' items in their own rights (the same items sold at Saturday's auction for over $30 apiece), they had another, symbolic function. For at the end of the table, Mike had placed an unopened bottle of Pre-Prohibition Bourbon, in perfect condition. It was this whiskey, made in 1917 and bottled in 1934, that the panel would be tasting. We did get some nice photos, but we both wished we had one of Sam Cecil's face when he saw Mike open and pour from that bottle!!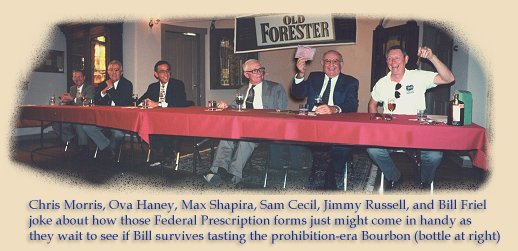 I would guess that Sam was probably born around the time that whiskey was made, and his look of pure shock as the seal was broken was worth the whole trip. The whiskey itself, although brilliantly clear and deep in color, was not really much of a hit with the panel (except as a discussion item). For starters, you have to realize that the distiller of this whiskey put it into the barrel fully expecting it to be bottled in four years. Well, that just didn't happen. The next time this whiskey saw the light of day was in 1934, seventeen years later. Now, you can make a whiskey that ages well for 17 years, but you'd better know that's what you're going to do before you start. You'd better put it into a lightly charred barrel, and you'd better keep track of where you store that barrel in the warehouse, and a dozen other important factors (many of which we learned straight from the master distillers' mouths at this seminar, in fact). If you don't do that, seventeen years is likely to produce something more like thin oak syrup than good whiskey. Anyway, Bill Friel was the first one to try the bourbon. Shortly after that (and before tasting it) Ova Haney explained to the audience the importance of using water to reduce the proof level to a standard (in his case about 40 proof) so that comparisons can be more accurate. He and Max Shapira also pointed out the value of letting someone else, say, like Bill, for instance, actually drink the whiskey first and see if they keel over after awhile. Of course they were only kidding... but it was quite a long time before the others dared to actually taste the stuff! Eventually, however, everyone did sample from his glass -- although no one finished. The unanimous opinion of the panel was less than praiseworthy.
As I recall, the terms "resinous" and "harsh" were mentioned often by the master distillers. Now, to put this into a different perspective, you have to realize that whiskey doesn't change at all in a sealed bottle, no matter how old the bottle is. The only thing that counts is how long it aged before it was put in the bottle. Thus, the whiskey these men were drinking tasted exactly the same as it did as a brand new bottling in 1934. Is it any wonder, then, that Canadian, Scotch, and even Irish whiskey were so much better received immediately after prohibition than native American Bourbon?

In addition to the tasting, the panel joked and spoke about the comraderie that exists among whiskey men that is almost unique in this age of competitive drive. Max Shapira used a water pitcher to illustrate how, in nearly any other industry, if one company installed some fancy new piece of manufacturing equipment, which differed from the standard by only a small feature or two, they would jealously hide the new acquisition to keep other, competing companies from seeing and learning about it; in the Bourbon business, they'd be more likely to call up all the other distilleries and invite them over to have a look at the new toy! In Bourbon-making, there is a practical reason for this: should anything ever go wrong with the new toy, it's your competitors that will need to know how it works in order to bail you out. Does that seem strange, idealistic, and fictitious? Well, don't try to convince Max Shapira of that -- when his company burnt to the ground two years ago, leaving him with dozens of contracts to fill and absolutely no means of production, it was his "competitors" (notably Brown-Forman and Jim Beam) who made their own facilities available to Heaven Hill.

Talking with these guys, both as an audience member and also in one-on-one conversations before and after the panel meeting, I felt utterly awe-struck. For those of you with musical tastes similar to my own, it was a lot like being at a party where you got to talk and even jam with Eddie Van Halen, Paul McCartney, Stevie Wonder, Bonnie Raitt, Pete Townshend, and maybe Johnny Cash and Phil Spector, too.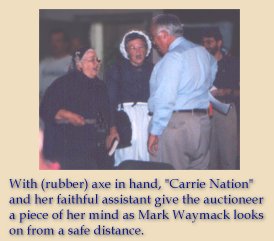 On Sunday, another event was presented in the same place. This time it was the second annual Master Distiller's Auction. This event is a sale of various antique whiskeys (most in drinkable condition), special bottlings not normally available in the United States, and premium bottles of normal Bourbon that have been autographed by the master distillers themselves. The proceeds go to the Oscar Getz Museum, who are this year trying to raise enough money to purchase a new library and museum software application and the computer system it needs to run on. The products offered for sale consist of either antiques already owned by the museum or items donated by the distilleries.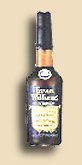 The auction attracted a good crowd, and brought in a total of nearly $5,000.00, fifty-five of which emerged from the wallet of your humble author in return for a fine bottle of Rock Hill Farms single barrel signed in gold ink by Leestown/Ancient Age master distiller Gary Gayheart himself. The most expensive single item sold was a bottle of Evan Williams 23-year-old, its neck dipped in deep blue wax, which is normally available only in Japan, and signed by Max Shapira. Howie Stoops bought it for four hundred fifty dollars. At the auction we also met and talked with Mark Waymack, author of The Book of Classic American Whiskey, and also Gary & Mardi Haidin Regan, authors of The Book of Bourbon. Gary and Mardi have another book coming out next month (they'd hoped it would be ready in time for the festival, but it wasn't quite). According to Mardi, they will be actually rating the bourbons in the new book. With her characteristic naughty smile and that unabashed twinkle in her eye, she hints that she expects a bit of opposition to their opinions. Gary had purchased a book "Classic Bourbon, Tennessee, and Rye Whiskey", just released by another author, Jim Murray. The book seems to be available in every store in town, and I bought one, too. I don't know if Jim was in Bardstown this week (probably; just about everyone was), but I didn't meet him this year. The book is excellent, however, and a must-have for bourbon fans.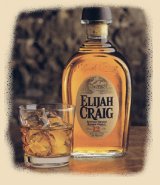 On Friday, as we were looking for a place to have lunch, we were window shopping our way up Third Street when we discovered Dagwood's, an attractive storefront restaurant at just about the end of the "boutique" area. We went in and sat down to a wonderful lunch that included Hot Brown (a very distinctively Kentucky dish and a personal favorite) and excellent sandwiches. On Saturday night, we had dinner there, enjoying the house specialty -- a New York cut steak marinated in 12-year-old Elijah Craig Bourbon and served, smothered in mushrooms, on a charred oak plank with a flaming mushroom cap on the side and a melon garnish. Truly wonderful.