American Whiskey
Rye Distilleries of Eastern Pennsylvania & Maryland
---
February 18, 2006
James Clark Distillery: Braddock Rye
LaVale (Cumberland), Maryland

You say we had a WHAT??
In this neighborhood?
BRADDOCK MARYLAND RYE's label stated that the distillery was located in Cumberland, Maryland, which was almost correct.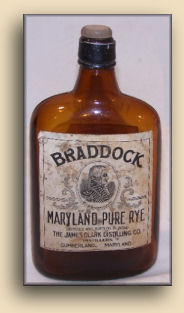 It was really in Lavale, about two or three miles west of Cumberland proper, on the old National Road. The first distillery built here was that of Clabaugh and James, as early as 1836.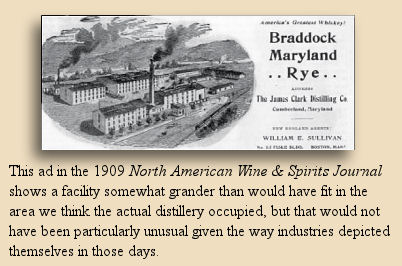 It wasn't particularly successful and the plant spent most of the next forty-seven years as a chemical factory. In 1883 James Clark and John Keating, half-brothers who operated a whiskey wholesale business, bought the distillery, refurbished it, and reopened in 1895 as the James Clark Distilling Company.
They produced a rye whiskey they called Braddock Rye (named for General Edward Braddock, who was killed in the French and Indian war after having become something of a local hero in Cumberland. The following was taken from Jack Sullivan's wonderful article in the Fall 2005 edition of Bottles and Extras. We don't know if Jack is related to the William E. Sullivan listed as the New England agent for James Clark...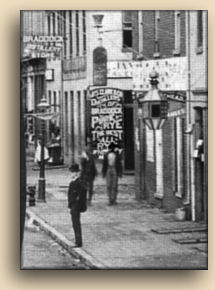 Braddock Maryland Rye was advertised as "America's Finest Whiskey." Clark registered this brand name with the U.S. Government at least three times - in 1886, 1905 and 1916. Braddock Maryland Rye was sold as a four-year-old (four quarts for $4.50) an eight-year-old (four quarts for $5.50, with a premium "black label" at $1.50 per quart) and also as Braddock Old Export Whiskey, Braddock Barley Malt, and Braddock "Blend of Whiskeys". The distillery itself was also known as the Braddock Distillery. However, James Clark also featured other brands, including "Old National Pike Maryland Rye", "Old Cumberland XXXX" and "Queen City Club".
Clark's brands became the predominant whiskeys sold in the Shenandoah Valley and in Washington, D.C., which of course ensured it's prominence among those most influential in promoting consumer preferences.

But the factor that made James Clark one of the wealthiest men in Maryland when he died in 1932 was that, along with Hayner in Ohio and Casper in North Carolina, Clark had the foresight to take advantage of the concept of Mail Order Marketing.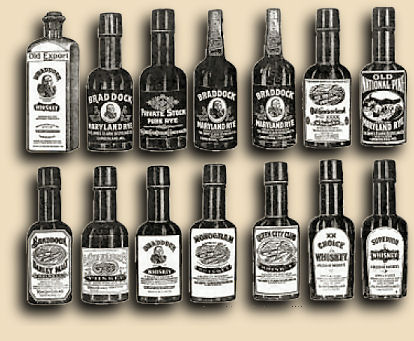 The idea of being able to send a check to a company and have their product delivered to you by an agent of the United States federal government had already long been successful to retailers such as Sears, Roebuck & Co.,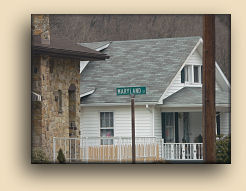 but with more and more states electing to prohibit the sale of alcohol beverages, the advantages of mail-order to a seller of beverage spirits began to take on really awesome proportions. Again, from Jack Sullivan's article...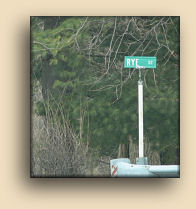 As town after town, state after state in America voted to go "Dry," thirsty Wets in those areas had to obtain their supplies by ordering through the postal service. By the early 1900s, James Clark had developed a thriving mail order business for his whiskey, making use of the good transport by railroad, road and water out of Cumberland.

National prohibition, and the Webb-Kenyon Act of 1913 which outlawed interstate shipment of alcohol into "dry" states, brought the end of the James Clark Distillery. There is no trace at all of the facility today...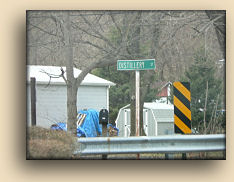 Well, almost no trace. Examining a map of LaVale, John noticed a wedge-shaped area where Rye Street,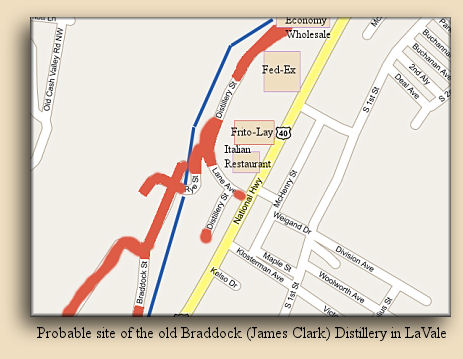 Braddock Street, and Distillery Road converge. An area next to a creek, with a wooded hill on the opposite side, and remnants of a railroad track. Today, a couple of food wholesalers, a snack-chip company, a FedEx depot, and a few blocks of small houses occupy the area, but it's pretty obvious that this was once the home of Braddock Pure Rye Whiskey. Nevertheless, when John spoke to some of the residents, not one of them had even a clue that a whiskey distillery might once have been in this area, despite the street names.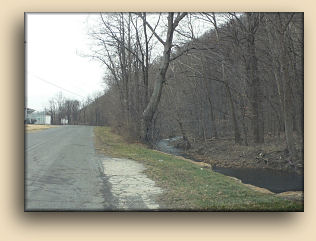 According to information from Jim Wolf, who used to live in La Vale as a boy back in the 1950s, the distillery (which had long since disappeared by then) occupied not only that site but quite a bit of the surrounding area as well. He writes that most of the complex was right along the National Highway. One huge building stood at the corner of Lane Avenue and the National Highway. That site is now the La Vale Post Office. Another building stood where the La Vale fire house now stands. Two other buildings, also gone now, were further west on the National Highway, One was labeled "Warehouse C" in photos Jim has seen taken in the distillery days.