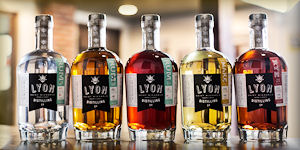 Maryland Rye Whiskey returns to the Free State

IN 1972 THE LAST DROP of rye whiskey ever made in Maryland came off the still at the Majestic Distillery in Lansdowne (or Halethorpe, or Arbutus, depending on who you ask) and no true Maryland Rye has been distilled since then.
Until now.
Cases of Pikesville Rye continued to be bottled at Majestic for several years, although the contents were distilled at unnamed facilities in Pennsylvania, then later at Glenmore in Kentucky. A decade after that the Heaven Hill company in Bardstown, Kentucky, purchased the brand and it's been made and bottled by them ever since. Always more popular in Maryland itself than elsewhere, Heaven Hill has recently revamped the label and upgraded the quality, as well as expanding its sales base nationwide.

It's still Kentucky rye whiskey, though, and that's not the same thing as the legendary Maryland Rye. There really are differences between the three main types of rye whiskey: Monongahela, East Pennsylvania/Maryland, and what was once known as Maryland Pure Rye. Monongahela, called that for the geographical area where it originated, is made mostly from rye grain, with only as much malted barley as necessary to get it to ferment. East of the Allegheny Mountains, however, rye whiskey was made from a mash containing a large portion (but less than half) of corn. This is also the way that Kentucky rye is made, although that whiskey tends to use more corn in the mix. Maryland rye, as it existed in its glory days before Prohibition, was usually made from 100% rye grain, sometimes using malted rye, other times the least amount of malted barley they could get away with.

Well, that last statement needs to be clarified just a little. The reign of the Maryland Pure Rye of legend and fable was not really brought to an end by National Prohibition. In fact, most of those wonderful and highly-respected old brands never made it as far as the 18th Amendment. They were done in by the Pure Food and Drug Act of 1906, when it was determined that they didn't even qualify to label themselves as "whiskey", let alone "pure rye whiskey". That doesn't mean that they were terrible, fake, imitation garbage; oh, no, that idea would be spread later by their competitors who were making "straight whiskey". Certainly some must have been less than palatable, but others were fine alcohol beverages that would have continued to be appreciated by discerning customers if they could have remained in business. Even those examples of Maryland rye that DID qualify to be labeled "whiskey" were stronger and richer than their East Pennsylvania counterparts and, despite some current attempts to market "authentic Maryland-Style" rye whiskies distilled in Kentucky and Colorado, there really hasn't been a close match for that flavor since the 1940s.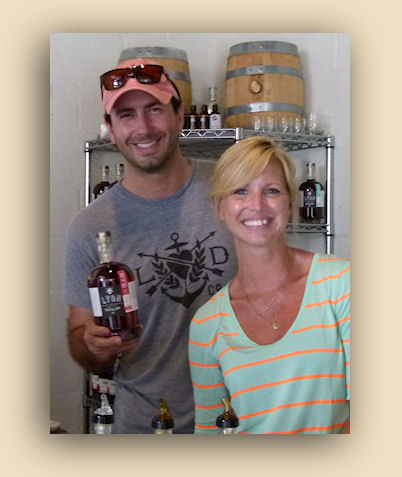 That is, until now...

Early last year, we were contacted by Jaime Windon, a young woman who, with her partner Ben Lyon, operates the Lyon distillery in Saint Michaels, Maryland. Lyon Distilling began making very good rum a few years ago -- three expressions, all of them delicious. Rum has an historic presence in Maryland. There were five rum distilleries in the state in the 1700s, and at least one "new age" craft/artisan distillery, Blackwater, has operated on Kent Island, not far from Saint Michael, since 2008. That distillery produces mainly artfully-crafted vodka (yes, there is such a thing; get over it) but early in 2015 released the second Maryland rum. A couple years earlier than that Jaime and Ben (we prefer to call them that because somehow "Ben and Jaime" sounds like they should be making ice cream) started Lyon Distillers and, along with the first new Maryland rum, they decided to distill and age rye whiskey.

Which no one has done since Majestic's still went cold over forty years ago.

Ben Lyon is the master (and only) distiller here and, while he is certainly capable of representing the brand, his main concern is with every single part of the operation of the distillery. Jaime Windon, while quite expert about the how's and why's of the distilling process (she can "shop-talk" the ears off most of the bourbon "master distillers" we know), represents the business and brand development part of the company. Together they are a force to be reckoned with.

Anyway, back in 2014 they were going to be presenting at a Chicago Spirits Festival at the end of September and we invited them to take an alternate route back home to Maryland that passed through Cincinnati and spend an evening visiting with us. Jaime said they would be happy to come, but unfortunately that idea had be scrapped when John went into the hospital just days before their visit. John's fight with cancer ended in complete victory half a year later, and half a year after that we now find ourselves in Saint Michaels to complete the visit. We are bringing with us a few samples of the pre-Prohibition Maryland and Pennsylvania rye they would have enjoyed last year at our house.

We are not Jaime and Ben's only good source of information about the history of Maryland Rye. Another, more local and at least as knowledgeable, person is their friend Teri Perona who holds a deep fixation on Maryland Rye whiskey history in general and late author Jim Bready in particular. We are fortunate to have Teri join Jaime and Ben at the distillery the day we visit.

Saint Michaels is a lovely town on what is known as the "East Shore" of Maryland. To get there from the part of Maryland where Baltimore and Annapolis and the old Majestic distillery are located, you have to cross Chesapeake Bay over the Bay Bridge and then drive down the other side of the bay for a bit. It's an area of little inlets and lots of boats. It smells like crabs. You want to spend the summer here. And that's just what Jaime and Ben did back when they were dating. Then they decided not to leave. They opened a bed-and-breakfast for awhile, but then decided to tap Ben's experience from his days in Nantucket, working at the well-known Triple Eight distillery, and start a distillery of their own, making rum and also Maryland Rye. While the 888 distillery qualifies as a "craft distillery", it's a much larger operation than Lyon's truly "micro", 100-bottle-a-week capacity.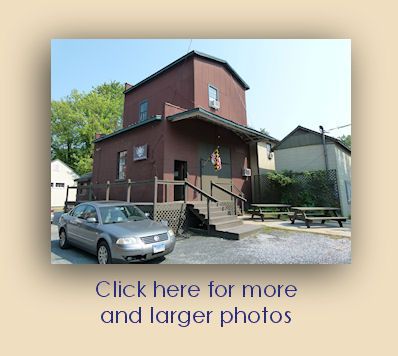 A block off of Talbot Street (Saint Michaels' main drag) is a barn-red building, built in the 1890s, that was once the "Just-Right Flour Company". It's been a long time since flour was being ground there, and it is now the home of several boutique stores, a wine shop, and a brewery. And it's a perfect location for a rum-and-whiskey distillery. It even includes a tall section just the right size to accommodate a modern column still.

Except there is no column still here. In fact, there isn't even the sort of pot/column combination still that has become a common feature of today's craft distilleries. In its place is a battery of five tiny stills, each only 26 gallons in capacity. These are true pot stills, made of gleaming stainless steel with shiny copper gooseneck heads, and were built by the HillBilly Still Company in Barlow, Kentucky.
We've seen many stills in our our travels, but these are the first ones that Linda has ever described as "adorable".

The first spirit produced here was rum, which remains Lyon's chief product. Rum is a liquor characterized by dramatically varying styles, such that each Caribbean island seems to have its own distinct flavor, even when produced at different distilleries on that island. Rums fall broadly into two categories, those that are made from molasses (a by-product of cane sugar production) and those made directly from fermented sugar cane juice itself. In the United States there are only a few small distilleries that actually produce rum, and even in areas like New Orleans where sugar cane is grown, almost all of those distill only from molasses. Ben ferments a hybrid wash of both molasses and raw sugarcane juice and carefully distills it to produce a rum with characteristics unlike any other he's tasted.

And Ben has tasted a lot of characteristics. So has Jaime. One thing (of many) that sets them apart from other distillers we've had the pleasure to visit is the knowledge they have of what other distillers are doing, and have done in the past. Both were spirits enthusiasts before they began this venture and both had ideas of what they wanted their finished product to be. How to go about achieving that is Ben Lyon's talent. That's why he chose to install a battery of tiny -- but infinitely controllable -- stills instead of a single large one. That's why he chooses to age his spirit in very small barrels, checking for maturity by the week or month instead of annually.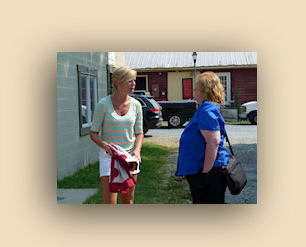 Distribution of Lyon's spirits is limited to on-site plus a few local restaurants and taverns; they simply don't produce enough to attract a distributor, and they aren't planning to expand greatly anytime soon.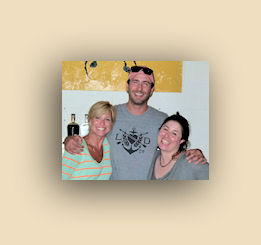 We arrive in the morning and are greeted in the parking lot (well, such as it is; "over there under that tree looks like a good place") by Jaime Windon, as vivacious a brand ambassador as you'll ever meet. She welcomes us into the distillery where we meet Ben and their friend Teri.

Ben Lyon shares with other true "craft/artisan" distillers we've met a love of the craft. His selection of what grains or sugars to ferment, which yeasts, what temperatures, and so forth is carefully considered. His use of the five tiny stills allows him the opportunity to fine-tune the distilling process in ways not available with larger equipment. He uses all five for the stripping run and three for the spirit run. Four of the stills have short goosenecks, rather than plated columns, and the fifth has an even shorter (eight-inch) neck to fine-tune the reflux just that much more closely. His barreling methods are equally unique and carefully thought out. Ben uses very small barrels: 3-gallon used bourbon barrels for rum; only one gallon, new charred oak, for whiskey.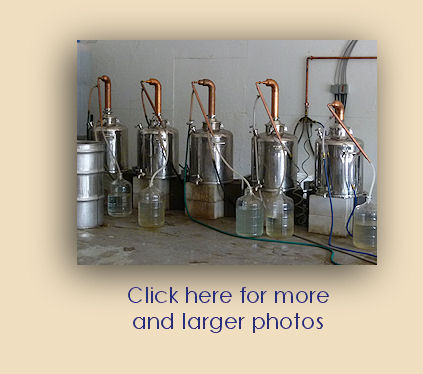 "What?," you say, "That's heresy! You can't age whiskey OR rum in such tiny barrels! It will taste awful!". But wait; there's more. Ben ages his Maryland rye whiskey only nine months... more or less. "You see," he says, "in such small cooperage as this, the changes come very rapidly. We check the spirit often and bottle it when it's just right. If we left it in there for a year it would taste..." well, like other distillers' small-barrel offerings. Lyon Maryland Free State Rye doesn't.

By the way, there is a reason they call it that. When National Prohibition was enacted in 1920 the state of Maryland made it clear that it would not fund any enforcement of the federal Amendment. Thus, the term "Maryland Free State". There will probably never be a "Lyon Straight Maryland Rye", because two years would be far too long for Ben's whiskey to age in those small barrels, and Lyon Distillers are quite content to produce a rare and hard-to-get product whose success may well be the result of their small scale. In doing so they join a small handful of American distillers whose excellence can only be sampled by those lucky enough to find themselves in their makers' immediate vicinity.
Oh, and they also produce and distill "new-make" corn whiskey which is 90% corn, 8% malted barley and just 2% rye for a little extra flavor. Although they call it "new-make", it is technically aged corn whiskey... aged all of 18 hours in one of Ben's tiny wooden barrels!