American Whiskey
Rye Distilleries of Eastern Pennsylvania & Maryland
---
September 30, 2004
Melky Miller
Accident/Westernport, Maryland

Now folks, this here is really WESTERN Maryland
If it were any further west they'd be callin' it "Nevada"
JUST OUTSIDE THE tiny town of Accident, Maryland, a gravel path cuts off from Church Road, and leads to a couple of farm houses.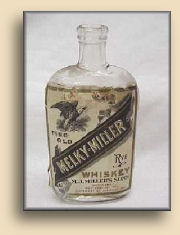 Along the way, one encounters the only remaining clue to the distillery that once existed here. In the glory days when Maryland was a major producer of rye whiskey, some of the best originated right here.
In the late 1800's Melchior J. (Melkey) Miller purchased a farm along a tributary of South Branch Bear Creek, just southeast of Accident. He also bought out the rather crude equipment of a small distillery from Joel Miller, in the Cove area of Garrett County, and moved it to his farm. Like many other distillery owners, Melky was not a distiller himself; he hired professionals to operate the business. His three sons, William, John, and Charles, learned the trade from these experts, eventually replacing them. In 1902 Melchior sold the distillery to his sons.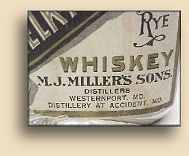 William continued as distiller, while John and Charles established a wholesale and retail whiskey business in nearby Westernport, Maryland.
According to Mary Miller Strauss' 1986 history of Accident, when the Melky Miller Distillery was in full operation there were always eight hundred to one thousand barrels of rye whiskey aging in the warehouses.
In good weather, heavy wagons were used to haul the barrels of whiskey over roads which were generally in quite poor condition. Local farmers usually did the hauling to earn extra cash. The wagons were replaced by strong sleds when sledding snow covered the roadways.
The passage of the Volstead Act in 1919 brought the family business to a close.

In 1920 all of the bonded stock in the Accident warehouses was transferred to government concentration warehouse in Cumberland. The distillery itself was closed and left to decay.
There is nothing left of it today except this sign, placed by the Garrett County Historical Society. The sign points out that the distillery burnt down in 1971, but we've heard there were at least a couple buildings standing as late as 1992. Unfortunately, none can be seen today, but this spot was where it all once was.