The Wight Stuff

ONE OF MARYLAND's best-known rye distilleries, with expressions popular both before and after the prohibition years, was the Sherwood brand.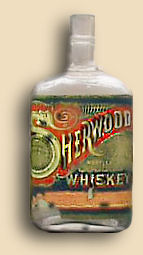 And, as often happened with other old Maryland brands, prohibition found a strong family continuity in the distilling industry traveling a different road from the brand name with which it was once associated.

The town of Cockeysville lies about seventeen miles north of Baltimore on the road that goes to York, Pennsylvania. People from outside of the area are more likely to know it as Hunt Valley, but that name was invented out of nowhere by real estate speculators in the 1960s. Two hundred years earlier, the buffalo and the Shawnee tribes who hunted them gradually gave the area up to white settlers, among whom were the Cockey family, who built a hotel and convinced the Baltimore & Susquehanna railroad to establish a station here.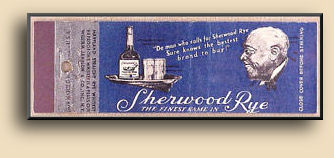 Among the industries taking advantage of the railroad by the late 19th century was a distillery operated by William Lentz and John J. Wight. As best as we can figure out, the distillery was located in the area now occupied by Procter & Gamble's Noxell plant. Their product was named Sherwood Pure Rye, after a nearby church.
Meanwhile, Baltimore grocer Al Hyatt's son Edward and his partner Nicholas Griffith operated a whiskey dealership (Griffith & Hyatt) until 1863, when Hyatt moved to New York and teamed up with a gentleman named Clark.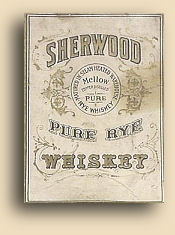 By 1868 Hyatt & Clark were able to purchase the Wight distillery in Cockeysville and enlarge it to allow broad-scale producing and marketing of their own brand-name Maryland Rye whiskey. Within ten years the Army's Medical Purveying Depot in New York was stockpiling Sherwood Rye Whiskey for hospital use. In 1882, after Hyatt & Clark dissolved, Hyatt incorporated the firm as The Sherwood Distilling Co., with himself as president. The relationship between the Hyatts and the Wights must have been a pretty close one as well, for after Hyatt's death in 1894, company leadership was taken over by John Hyatt Wight.
As early as 1914, Frank L. Wight was working at the distillery, and he continued to do so right up to the day it closed down in compliance with national prohibition.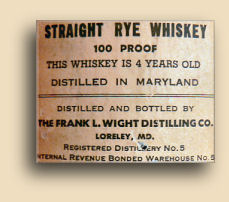 With passage of the 21st Amendment he went on to become a major figure in Maryland's post-Repeal distilling industry.

But not with the Sherwood brand.
He headed the Frank L. Wight Distilling Co., which built a distillery at Loreley, in the Whitemarsh area further toward the east side of Baltimore, and marketed Sherbrook, Wight's Old Reserve, and Congressional Club Maryland straight ryes.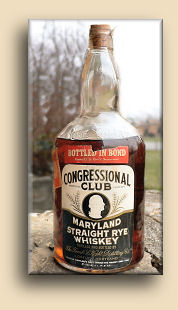 That distillery was purchased by the Hiram Walker, Inc. of Canada and subsequently shut down when production moved to their Peoria, Illinois facility (see photo of label). Whereupon, Wight organized the Cockeysville Distilling Company and in 1946 he built a distillery just down the street from where the original Sherwood site had stood until the buildings were demolished in 1926. Unable to regain access to the Sherwood brand, Wight produced and marketed instead a Maryland straight rye he called Ryebrook.

Wight's principal backer was Heublein, Inc., of Connecticut, and following Wight's death in 1958 they shut down the distillery.
Altogether four generations of Wights distilled whiskey in Maryland, the last being John Hyatt Wight II, who died in 1990 at the age of seventy-eight.
Portions of the Cockeysville distillery still remain.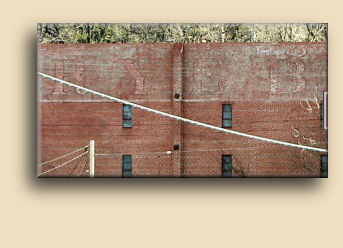 A brick warehouse on York Road, still wears the word, "Home of RYEBROOK" in faded paint along its roofline.. Even more clear are the words "COCKEYSVILLE DISTILLING COMPANY" inlaid on the front of the building, although partially obscured by a banner for an appliance repair shop. The warehouse and another building are now used as a small industrial compound containing a cafe, the appliance repair, and Mark Downs Furniture, a discount and second-hand store with the cleverest name we've seen in a long while (John says he can visualize the late-night TV commercial, with the proprietor himself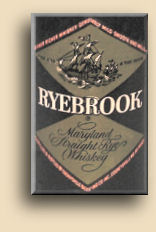 -- faithful dog at his side -- saying, ".. .best deal in the Tri-State. I'm Mark Downs, and you have my word on it!").
The Ryebrook brand is a name that is virtually non-existent in internet searches. The only example we've found is this label, shown here courtesy of John Sullivan's wonderful collection of miniatures. John specializes in miniature vodka bottles, but that doesn't prevent him from supporting an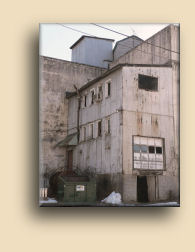 impressive display of American whiskey minis as well (not unlike our own "non-collection" of rum or beer bottles).
Standing next to the warehouse, and part of the same complex, is another rambling building, even larger than the warehouse. It has no old markings or signage, but it appears to be contemporary with the other building, if not a bit older. The furniture store is actually a separate, more modern structure behind, and across a small creek, from these two.
Heublein also marketed "Wight's Sherbrook Straight Rye Whiskey", which they produced at their giant facility in Peoria, Illinois.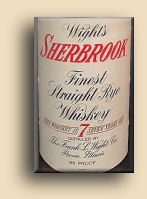 That brand name may seem to have been chosen in order to take advantage of customer confusion, as that was a common practice among Maryland whiskey merchants, but actually there really had been a "Sherbrook" brand before prohibition, albeit not in Maryland.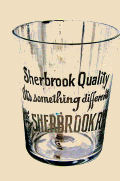 The Sherbrook Distillery which operated in Cincinnati from 1900 to 1918 was a very large company. The Robert E. Snyder Whiskey Brand Database lists no less than forty-five different brands registered to Sherbrook, with names that indicated at least national, if not worldwide, distribution. Such a well-recognized name would have been advantageous even without the similarity to Sherwood. The shot glass seen here was distributed as a promotional piece for the Cincinnati Sherbrook.
Meanwhile, the Sherwood brand didn't entirely disappear. During prohibition, Sherwood Rye was sold as prescription medicine and eventually the brand was purchased by Louis Mann.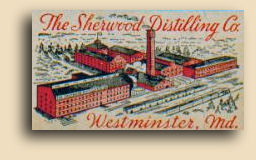 His Sherwood Distilling Company was located, at least nominally, in Westminster, about 25 miles northeast of Cockeysville. Much of the bottling, however (and perhaps distilling as well), was done at the William Foust Distillery, twenty miles further north in Glen Rock, Pennsylvania. Mann built The Sherwood Distilling Corporation into the fourth most important independent distilling company in America
According to journalist James H. Bready, writing for the Maryland Historical Society, some of the early (Hyatt & Clark) Sherwood Rye was shipped to Cuba and back as part of its aging process, a smaller-scale implementation of the "grand tour" method being used by Outerbridge Horsey. Interestingly, that's not the only connection we've discovered between these two brands.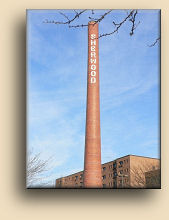 The post-Repeal Sherwood Distilling Company (of Westminster) bottled whiskey under the name Old Horsey Rye in Glen Rock at the Foust Distillery.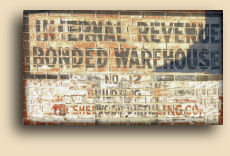 There are also remnants of the World War II era Sherwood Distillery in Westminster, with an interesting twist. One of the structures was a building with large glass windows constructed during World War II to serve as a mash-drying house producing feed for cattle from the mash used in the whiskey production. Known locally as "The Glass House" and considered a community eyesore, it remained neglected for decades, crumbling slowly into oblivion along with its surrounding neighborhood. During the 1990's the area became included in Westminster's Priority Funding Area, funded partially from Maryland's Neighborhood Development Loan Program and the Carroll County Small Business Development Center, and this building, along with its adjoining brick smokestack, was among the projects receiving extensive repair and restoration. It opened as the Paradiso Italian Restaurant in 1998 and is now one of the city's most popular destinations.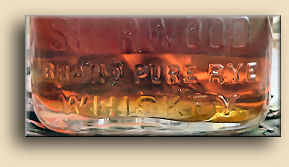 John visited the restaurant in February 2006, enjoying a delicious and beautifully prepared dinner in the classic, elegant atmosphere they've created. John discovers a certain bittersweet irony, however.
Although the staff is well aware of the history of the building, and the tasteful decor includes a prominently-displayed bottle of Sherwood Pure Rye Whiskey, the bar (and why couldn't this have been more of a surprise?) does not stock any rye whiskey at all, and the bartender isn't even sure he'd ever tasted any.