American Whiskey:
BELMONT FARMS of VIRGINIA
Virginia Lightning Corn Whiskey
Copper Fox Spirit
June, 2005
In 1975, Chuck and Jeanette Miller bought the farm. The 200 acres they own near Culpeper, Virginia, has carried the name "Belmont Farm" since 1830 and they felt no need to change it. In the ensuing thirty years the Millers raised corn, cattle, thoroughbred horses, four sons, a daughter, at least one Corgi dog, and for awhile,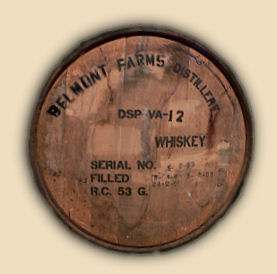 some grapes. The grapes, only about an acre of them, were planted in 1985 with the idea of making wine. Mother Nature, however, had some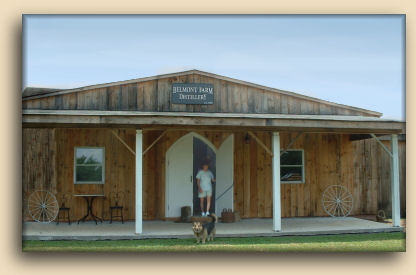 ideas of her own, such as early and unpredictable frosts. After being slammed with low yields a few times, Chuck, still thinking in terms of specialty beverages, decided to look in other directions.

One of those directions didn't require much looking. Back in the Prohibition '20s and '30s, the great American tradition of do-it-yourself corn whiskey was flourishing. And the resulting flow of illegally-made alcohol included a very tiny contribution from Chuck's grandfather in Maryland. Tiny for the Great Tradition, perhaps, but big enough to support John Miller's family. Of course, it couldn't last forever, and it didn't. Although he was wasn't imprisoned, Grandpa Miller was eventually caught and had to shut down his distilling operations.
While uprooting his grapevines, Chuck, who has his grandfather's original recipe, began having some serious thoughts concerning how to go about distilling and selling corn whiskey... legally.
In 1989 he applied for, and obtained, a federal license from the Bureau of Alcohol, Tobacco, and Firearms, as well as another from the Commonwealth of Virginia, and yet another from the Federal Food and Drug Administration, to ferment and distill corn whiskey in his barn. He also obtained a distribution contract with the Virginia Alcohol Beverage Control organization.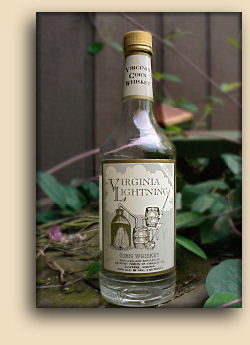 The Millers' products, Virginia Lightning (a clear 100-proof corn whiskey) and Copper Fox (a wood-aged spirit made from corn whiskey), have been sold throughout Virginia since the late 1980's in the state-operated liquor stores. Early attempts to sell Virginia Lightning in other states were less than successful, however, until they realized that North Carolinians and Tenne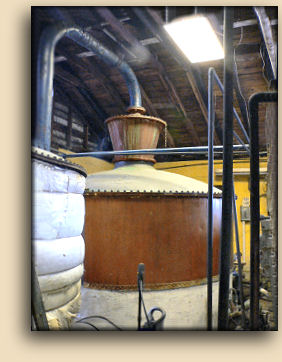 sseans weren't much interested in "Virginia" whiskey. So they market their product as "Carolina Lightning" in North and South Carolina, and as "Tennessee Lightning" in Gatlinburg, which is where we first discovered it. The fact that their operation has been featured on both The History Channel and PBS Television has also helped it become familiar to Americans who otherwise would not think of themselves as "moonshine-savvy". Chuck's operation is very traditional for producing fine corn whiskey. They are corn farmers, and like the true farmer-distillers who first settled the Shenandoah Valley and Kentucky, they actually grow the corn from which their whiskey is made. The Belmont Farms still itself is a huge, solid copper commercial pot still, built right after the end of Prohibition in 1933, which Chuck says he obtained from a wooded hillside near Charlottesville. The Millers' operation, which produces about 250 cases per acre, or 2,000 cases a year, starts by boiling 300 pounds of ground corn with purified water for 45 minutes, cooling it down, and adding yeast. In a separate tank, Chuck heats another ton of corn, without yeast, and then they are combined in a third tank to produce 1,500 gallons of mash from which the whiskey will be distilled. This produces pure corn whiskey, without any rye or malted barley. And the result, even when diluted to the 100 proof it's bottled at, has a bright corn flavor unequalled by almost any other corn whiskey we've tried, even Heaven Hill's "Shine On, Georgia Moon" (which we find to be better-tasting than the original version actually made years ago by the Johnson Distillery in Albany, Georgia).

Making whiskey was a nice hobby and side-business for the Millers (the main purpose of their farm is the raising of Jeanette's prize thoroughbred horses), but especially since the national television exposure, it's fame is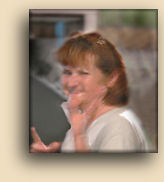 spreading fast. Chuck, who holds an aviation engineering degree from the University of Maryland, is now gearing up for an onslaught of distillery tourists. He and Jeanette are rehearsing their tour-ta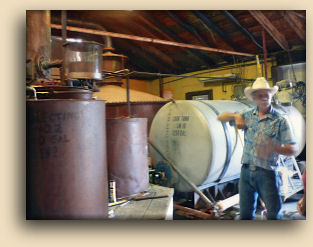 lk (we have a chance to be practice-tourists for them) and have built a beautiful, herringbone paneled front extension onto the barn. This will be the tasting and souvenir room at the end of the tour, although they still need to push for legislation to allow them to offer samples and sell product onsite. They are, in fact, negotiating to get signs on the nearby interstate and local roads and working on the logo by which the distillery will be known to tourists, a process we get to watch, as we sit with them and the sign consultant around their kitchen table, sipping lemonade.

In addition to the white corn whiskey, the Millers market an aged product called "Copper Fox". The way they do this is to make a large "tea bag" of cheesecloth and stuff it with toasted and charred wood chunks, and allow it to steep in the newly-made whiskey until the clear 'shine has picked up the color and flavors of the wood. Chuck uses cut-up old oak barrel staves, and he also uses chunks of charred applewood. After several weeks, the whiskey is put into previously used charred oak barrels and aged for at least two years. This additional barrel aging has been going on for several years now, but the label still claims only four m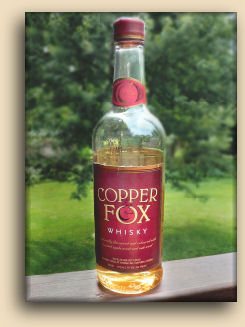 onths "aging". Chuck says he'll get around to updating the label eventually.

Copper Fox's name may have been influenced by the popu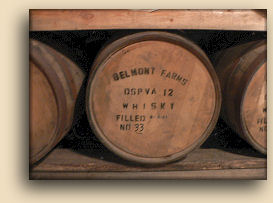 lar nickname for Virginia Gentleman's premium label, which uses a very similar fox head logo molded into their bottle. That would be understandable, as Chuck and A. Smith Bowman's master distiller Joe Dangler are friends who share ideas and even bottling equipment. While the label on the Millers' flagship product may seem slightly frivolous, the Copper Fox label is quite distinguished and professional-looking. The wording on the back, however, has the same bounce and fun that we hear in Chuck's own voice. The whiskey also conveys that un-stuffy feeling.
John says that if you close your eyes when drinking Copper Fox, you can imagine yourself sitting around a campfire, toasting S'Mores.
There would be campfire songs, too.
Probably a little more "Knick-knack, Paddywhack" than "Cumbahyah".
Story and original photography copyright © 2005 by Linda Lipman and John Lipman. All rights reserved.