The Leestown Distilling Company
Home of Ancient Age Bourbon
Frankfort, Kentucky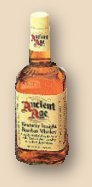 NOTE: Around the turn of the century -- the 21st century, that is -- Leestown Distilling Company became Buffalo Trace Distillery. Much of what we saw here remained the same, but a lot did change. This was our impression of the Leestown Distillery when we visited there.
We awoke this morning to find it still raining. It isn't a hard rain, only a steady sprinkle. Just enough to be uncomfortable to walk in without an umbrella.
Our motel is only a few minutes away from Leestown Distillery, the home of Ancient Age, Blanton's, Elmer T. Lee, and several other products, and the first of the two distilleries we will be visiting today. We arrived early, and were the only people there. The tour is a good one, the best of the large plants, but you wouldn't know that immediately upon arrival. There is no separate parking lot and entrance for tourists; you just drive up to the main gate and ask the guard where to go. After directing us to park at one of the loading docks, he pointed us toward the visitor center.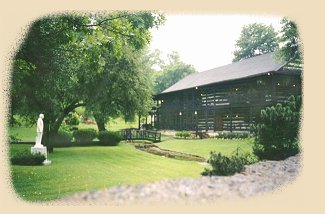 The visitor center at Leestown/Ancient Age is on the second floor of the employees' clubhouse and cafeteria, a huge, almost Scandinavian-looking log house overlooking a beautifully landscaped park and grounds. There is also a matching (though smaller, of course) guest house nearby. This all appears to be part of the property of Col. Albert Blanton, the distillery's founder, whose stone mansion stands at the top of the hill overlooking everything. His statue stands near a stream in the park. Signs on the walls indicate that the ground floor of the clubhouse (where the cafeteria is) is commonly used by employees and the whole clubhouse is available for various company and private parties. It looks like a friendly place to work.
The tour started, as most of them do, with a videotaped presentation explaining how whiskey is made and why [insert your distillery's name here] has become known as the best bourbon ever created. Then it's on to see the sights. Quite the opposite of the image presented by Jack Daniel's, here our tour guide and his assistant were both young men who looked like university upperclassmen or recent grads working as interns on their way up the management ladder. Both were very friendly and informative, and were able to answer any question we asked, including complicated ones such as "what is the real name of this company and why isn't it called that?" With bourbon distilleries, that is never an easy question to answer. The history of whiskey-making in Kentucky is very convoluted and all surviving distilleries have changed hands and labels numerous times.
This is especially true of this particular site, as it has been the home of much bourbon history. It began when Benjamin Blanton went off to seek his fortune in the great California Gold Rush of 1849. Unlike many other "Forty Niners", he was successful. He struck it rich, didn't gamble or lose it all in investments, and returned to his home in Kentucky a very wealthy man. He bought the old Rock Hill farm near Leestown and established a distillery here in 1865. He soon learned that whiskeymaking was not something he wanted to do, however, and he sold it only four years later. The man he sold it to named it the Old Fire Copper Distilling Company and began producing bourbon. OFC remained a very famous brand of bourbon until it was sold to Schenley (who still produces whiskey under that brand, although it's Canadian whiskey now and the name has been changed to "Old Fine Canadian"). Only a couple of years later, Col. Edmund Taylor purchased the facility. Colonel Taylor owned several distilleries in the Frankfort-Glenn's Creek area and it was during this period that he revolutionized the bourbon industry by introducing scientific methods of ensuring consistency and high quality. Taylor also didn't own the plant long however, passing ownership on to George T. Stagg (who was principal owner of the E.H.Taylor, Jr. Co.) in 1886. Stagg added his own brand and changed the name to the Old Stagg Distillery , but he kept the OFC brand as well. He also continued to produce Old Taylor whiskey here. Eleven years later, he hired a young man named Albert B. Blanton, who was the son of founder Benjamin, and he went on to become the master distiller from 1912 until he retired in 1952. The distillery did not operate during Prohibition, but was used for warehousing and bottling of medicinal whiskey. In 1929, the Schenley Corporation bought it, and they began producing bourbon here in 1933.
During World War II, another Schenley company moved in and set up a "distillery within a distillery". George Dickel's Cascade Hollow, which had been driven from Tennessee in 1910 when that state declared itself dry a full decade before the rest of the country set up operations at this site.. The Dickel operation had moved originally to Louisville, but came to the Stagg plant shortly after Schenley purchased it.
Armed with umbrellas provided by the guides, we headed across the large plant grounds. The guides pointed out the various pre- and post-prohibition buildings, mostly made of brick, and told the story of how the company went from the Old Fashioned Copper (OFC) Distillery to E. H. Taylor & Company, to the George T. Stagg Distillery, to the Schenley Distillery, to Ancient Age Distilling Company, to Leestown Distilling Company, Inc., to it's current official name of Sazerac, Inc.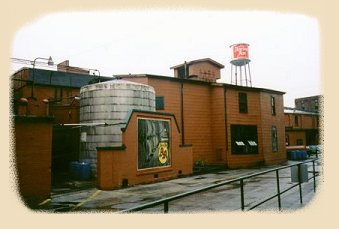 Sazerac, a New Orleans-based corporation, produces several types of liquor, not just whiskey, and the plant's bottling facility is put into service for other lines as well as those actually produced here. We visited both the highly automated main bottling line and also the small building where Blanton's, Rock Hill Farm, and Hancock's Reserve are carefully hand-bottled. This is also where other small production runs are bottled; today it was Torada Reposada tequila. This was an unfamiliar product for the the women working on the bottling line, too (at least bottling it was) and everyone was very excited. One woman, who appeared to be the line leader or shift supervisor let us sniff the fumes from the holding tanks. Oooooh did that ever smell good (before I got interested in America's liquor, tequila was my favorite drink. It's still my second favorite drink). For those of you who are tequila fans, Sazerac also markets Herradura, which is probably the tequila equivalent to Blanton's. They do not bottle that here.
We both agreed that the Leestown tour was the best of the large distilleries we've visited, and really not too far off from the smaller ones, judged by the friendliness and expertise of the guides. Actually, it was equal with the smaller plants, but that may have been because we were getting pretty much a private tour. We bought a few souvenir shot glasses and tried to get a signature bottle of Elmer T. Lee Single-Barrel. Elmer still comes to the distillery every Monday, and usually spends some time meeting visitors and hand-signing bottles of his signature bourbon. Today is Tuesday, and, even though Elmer was here just yesterday, there are no signed bottles left. Hint: If you're going to visit Leestown Distillery, make sure you go on a Monday.
---
February 15, 1999 -- Breakfast with Elmer T. Lee
---
And indeed it was on a Monday that we next visited the home of Blanton's, Hancock Reserve, Rock Hill Farms, Ancient Age, and of course Elmer T. Lee. On this trip we had planned to see ruins of some of the now-abandoned distilleries lining Glenn's Creek. It was our intent to start with a quick trip to Ancient Age just to see if a signed bottle of Elmer T. Lee Single Barrel might be available. We didn't take the tour again, but headed straight for the gift shop in the clubhouse. Well it was early and the gift shop wasn't open yet, so we decided to have breakfast in the employee's cafeteria. That's the kind of low-key place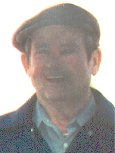 Leestown Distillery is... guests and employees share the same facilities.
We had hardly begun our eggs and bacon when Linda remarked, "I think that's Elmer coming in now!" Sure enough, as he passed our table John stood up and said, "Elmer, hello! You're the reason we came in today." He gave us a big grin and said hello. He asked if we'd like him to join us after he got himself a cup of coffee. For John that was about equivalent to having the Pope offer to chat awhile! Eighty years young, Elmer's eyes twinkle and his quick smile brightens the room, despite the fact that he is recovering from a recent bout with the flu. That didn't prevent him from talking about the many ways in which styles of whiskey and people's tastes have changed over the years.
Elmer, neither tall nor brawny, is nevertheless one of the true giants in the world of whiskey. For starters, he's been around longer than most everyone else living. Elmer Lee (who says his family is not related to the original settlers of Leestown) began working at this very distillery fifty years ago, as an engineer in 1949. He was already thirty then. At that time the master distiller was none other than Col. Albert B. Blanton himself (he of the marble statue), who had been making the whiskey here since the beginning of the century.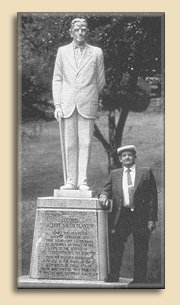 The place was known as the George T. Stagg Distillery then and Blanton (whose father had founded it in the 1860's) worked with George Stagg himself, and learned from him how Bourbon whiskey is made. Albert Blanton was distillery manager for forty years from 1912 until his retirement in 1952 and he in turn taught Elmer the craft. It was the Colonel's name which Elmer bestowed upon the product with which he is credited for revolutionizing the American whiskey industry, Blanton's Single-Barrel Bourbon.
You see, until the mid-1980's, Straight Bourbon whiskey could be found in basically two varieties: regular and cheap. Increasingly, it could be found gathering dust on liquor store shelves, as the market shifted away from dark liquors in favor of vodka, white rum and tequila. One notable exception was the resurgence of interest in single-malt Scotch whisky. Beginning about a decade earlier, single-malt Scotches, those made from only one distillery and not the blended output of several different formulas and distillers, had become very popular with whisky aficionados who appreciated their distinctive, pronounced flavor. They also appreciated the marked differences among the various brands. And they weren't at all opposed to paying premium prices for them. This was especially true in Japan where overwhelming new prosperity and a desire to enjoy the best of Western culture created a particularly "hot" market.
American whiskeymakers would have loved to join their cousins across the Atlantic, but there is really no way of making something unique out of "Single Bourbon". First of all, unlike Scotch or Irish whiskies, Bourbon, by law, can't be made from a single grain -- not even corn. And (notwithstanding all the warehoused product that passes ownership back and forth in this ever-changing industry) it has never been customary for American whiskeymakers to mix brands from different distilleries, so having all the whiskey come from the same distillery is the norm here, not the exception.
It was Elmer Lee who came up with the idea of a "Single-Barrel Bourbon". Just as the name implies, all the whiskey in a bottle of single-barrel Bourbon has been dumped from the same barrel. That rather dramatically enhances the "exclusive" factor by reducing the total output of each batch to just about 50 gallons. This, of course, is not entirely a new concept; before the idea of bottling was introduced in the late 1800's all Bourbon was sold by the barrel and therefore any that was subsequently dispensed into a decanter was bound to be "single-barrel". But Bourbon hadn't been sold like that in more than a lifetime and that feeling of "revitalizing the old fashioned ways" certainly did nothing to detract from the appeal.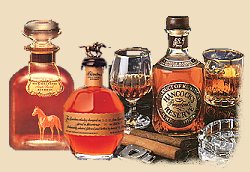 That's especially true in Japan and Europe where there is great fascination with 19th century Americana and products that carry the aura of the American South have a special appeal.
In 1984 Lee released Blanton's Bourbon, the first American entry into the ultra-premium whiskey market. It was an instant success. Fifteen years later most distilleries offer one or more single-barrel bottlings, including all of the "boutique" Bourbons. Leestown/Ancient Age itself now produces four single-barrel Bourbons: Blanton's, Rock Hill Farms, Hancock's Reserve, and Elmer T. Lee (one of only three whiskies named for a living distiller). In addition, the success of the "single-barrel" concept spurred competitor Jim Beam Brands to come up with a selling feature of their own, that wouldn't be thought of as "jumping on the Leestown bandwagon". The result of this move is the Small-Batch Brands -- not single-barrel, but with the same attention paid to selection, aging, and packaging. Thus, although the dark liquor business does appear to be leveling off again, it is at a much higher level than it ever would have been, and Master Distiller Emeritus Elmer T. Lee is generally considered the person responsible. It is for that reason that his name will never be omitted from any list of the Fathers of Bourbon.
Of course with absolutely no room for error, and no way to compensate for a bad choice by mixing barrels, a great deal of care must be taken in selecting just which barrels will be used in a single-barrel Bourbon. Early in their maturing life the barrels that will become Blanton's are identified and singled out for special treatment. They are moved to Warehouse H, which Elmer believes offers the best aging conditions, and it is from the barrels stored here that Elmer selects what will be bottled in any given week. Did I say "Elmer selects", as in "still does this"? Yup, I sure did. Elmer T. Lee "retired" nineteen years ago, but he still comes in nearly every Monday morning to make his selections and to monitor the aging of the Blanton's and Elmer T. Lee brands (current master distiller Gary Gayheart selects the other single-barrels). And, on this particular Monday morning, to offer some of his time to a pair of fascinated and awe-struck tourists.

There are actually two bottlings called Elmer T. Lee available, the single-barrel bottling at 90 proof and a 107 proof Elmer T. Lee (not single-barrel) that is no longer made and is very hard to find. Ancient Age does make a Barrel-107 product, but it is not the same whiskey. We have two bottles of the Elmer T. Lee 107 and John thinks it's one of the two or three best Bourbons ever made. Elmer noted that the marketing folks had it put in an opaque black bottle, with the distinctive black Elmer T. Lee label because they thought it looked good. He didn't, and when the single-barrel came out he made sure it was bottled in clear glass so you could see the whiskey. It still has the same black label, though, and Elmer says lately he's been working on getting that changed as well. Look for new packaging on this Bourbon soon. (also look for the old Elmer T. Lee 107 and grab some if you can find it!)
One "undocumented" tradition at Leestown/Ancient Age has been that Elmer usually takes the time to hand-sign a few bottles of Elmer T. Lee single-barrel at the gift shop when he comes in on Mondays. That's what we'd missed last time we were here, and that's what we'd come here for this Monday morning. Although fantasies certainly entered our minds, we really hadn't expected the chance to actually meet and talk with Elmer in person, but we were hoping to get a signed bottle. Imagine our faces when Elmer went into the gift shop and returned with the news that there were no bottles of Elmer T. Lee available to sign! So Elmer gave us directions to the nearest liquor store (in town) and how to find him when we got back. And that's how John and Linda came to smuggle a bottle of Elmer T. Lee Bourbon into the Leestown/Ancient Age distillery! Elmer signed the bottle, both with his signature as he usually does and also with an added inscription just to us. It now occupies a special place in our collection.