Heaven Hill
The Bernheim Distillery
Louisville, Kentucky
NEARLY TWENTY-FIVE years ago, on a visit to Kentucky, John was served Hot Brown in a restaurant. He was told that the hot turkey sandwich, served open-faced on toast, smothered with Mornay sauce, topped with tomato and bacon slices, and broiled was a Kentucky tradition.
Now that we live just minutes from the Bluegrass State, we know a little more about this wonderful dish.

First of all, we know that it really is a regional tradition. Outside of Kentucky almost no one has ever heard of Hot Brown, and yet within the commonwealth you probably won't find three decent restaurants in a row that serve lunch and don't offer it on the menu. Another thing we learned is where it came from (and why it's called "Hot Brown" when it really isn't brown at all – it's mostly white and yellow).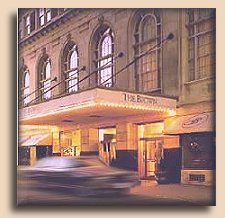 The sandwich was created in the Roaring '20s by chef Fred Schmidt of the Brown Hotel in Louisville. He was looking for a late-night meal to serve to customers after dancing in their very popular ballroom and came up with an idea for a hot turkey sandwich. Turkey, at that time, was almost exclusively a Thanksgiving and Christmas meat, so this was quite an unusual offering.
It was also an instant success, and was carried over to the hotel's lunchtime menu where it soon became a midday favorite. Before long, Hot Brown sandwiches were being served all over Louisville and the rest of Kentucky. It's so popular today that even Governor Paul Patton's wife Judi offers a recipe on the internet (http://www.state.ky.us/agencies/gov/hotbrown.htm).
THE CAMBERLEY BROWN, as the hotel is known today, still serves Hot Brown the same way it was created nearly eighty years ago, and this afternoon, it is serving it to us. As we sit in the hotel's bright and cheery luncheon restaurant, called J. Graham's Café, we are presented with the finest Kentucky Hot Brown either of us has ever eaten.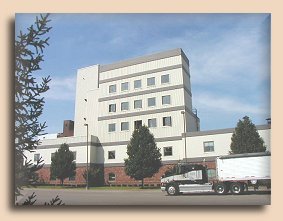 As with all regional favorites, there are almost as many ways to make Hot Brown as there are restaurants that serve it, ranging from really good to really awful. We've tried several; none can compare to the original.
Leaving the Camberley Brown Hotel, we have only a short drive of a few blocks to the BERNHEIM DISTILLERY, essentially next door to the Brown-Forman world headquarters and corporate offices we'd toured two years ago.
When it was built by United Distillers in 1992, the Bernheim distillery was the cutting edge of bourbon-making technology. It still is. Sitting in the shadow of the old brick warehouses, Bernheim is the most modern bourbon distillery in existence, as the somewhat newer Labrot & Graham facility was intentionally made to be as traditional as possible and uses technology from the 19th century wherever it can.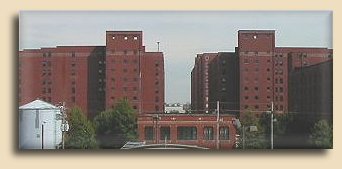 This isn't the first Louisville distillery to be called Bernheim, but that long-gone original wasn't located here. What was here were two smaller distilleries that were not in the best of shape. One was the dilapidated Astor, where Henry Clay bourbon had once been made and the other was the Belmont, most recent home of the Old Charter and I. W. Harper brands.
When United Distillers, a division of Guinness, purchased those brands they bought everything, the labels, the old stock, and the distilleries themselves.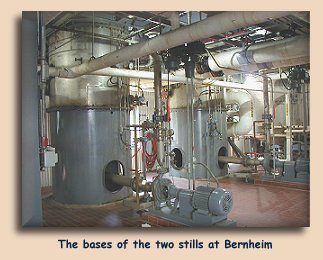 Leaving the brick warehouses intact, they almost immediately began the task of tearing down the old distilleries and replacing them with a single, modern facility. It is equipped with two stainless steel stills (only the heads are copper) which were originally intended to be used as one for I. W. Harper and the other for Old Charter. But then they decided to consolidate another of their recent purchases into the Bernheim plant. The same year Bernheim opened, United closed the Stitzel-Weller distillery in Shively and moved operations to the new facility. The brands of Stitzel-Weller (Old Fitzgerald, Old Weller, and Rebel Yell) were of a type called "wheated" bourbons, where wheat is used as a flavor grain instead of the more common rye. Bourbon distilled from a wheat formula requires differences in the way the still is set up and operated and it made sense to dedicate one of Bernheim's two stills to that type and share the other between the two rye-type bourbons.
For a number of reasons, certainly not the least of which being that it was a foreign-owned company whose operations were directed from overseas by managers who may have considered bourbon a competitor to their primary interests, United's presence was not particularly welcomed by the established distillers. Add to that the fact that their decision to close down a beloved landmark, the Stitzel-Weller distillery, came almost immediately after they took over and it's easy to understand why United Distillers was more or less universally scorned. Bernheim, shiny and new, filled with modern stainless steel machinery and computerized production equipment, is the very antithesis of everything Stitzel-Weller had once stood for. That plant, where whiskey was distilled surrounded by full copper and wood and valves operated by human beings, proudly displayed, near the entrance to its offices, a sign stating, "No Chemists Allowed!". So the change to Bernheim was seen, symbolically, more as the loss of a proud old (and probably mythical) tradition than merely a transfer of manufacturing location.
None of which matters today. For all the wailing and gnashing of teeth over what United would do to the brands it had taken over, they were only there for about seven years before merging with another British mega-company, IDV, to form Diageo. The new conglomerate has little interest in maintaining bourbon brands at all nor in operating a bourbon distillery in far-off Kentucky, USA.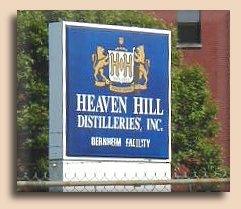 Coincidentally, in 1996 a devastating fire destroyed the Heaven Hill distillery just outside of Bardstown, leaving owner Max Shapira in desperate need of replacement. While rebuilding at Bardstown was certainly an option, the fact that the future of the practically brand new Bernheim plant was now in doubt opened the way for some serious (and lengthy) negotiations with Diageo. And in the spring of 1999 it was announced that Heaven Hill would be the proud new owners of the Bernheim Distillery in Louisville.
Today we aren't planning on getting a full tour of the Bernheim plant. Unlike their Bardstown location, famous for its distillery tour which includes historic parts of the the town as well, no public tours of Bernheim are offered yet. United Distillers also didn't give public access, so most people have never seen the inside of the distillery. We are hoping to be able to find some spots outside the fences where we can take some photos, but as we drive up to the front gate we see a festive, open-sided tent with tables and chairs. They're all empty; it looks as though a party has recently ended. The gate is open, so we drive in and pull up to the security office to see if they'll let us shoot some pictures from inside the grounds. Instead, the guard tells us that they have just finished the formal dedication of the new plant and he asks us to wait while he calls one of the public relations folks over. She, in turn, welcomes us warmly even though she knows we aren't part of the press corps and calls Jim Land, the production manager. He then graciously offers to take us on a private tour of the whole facility.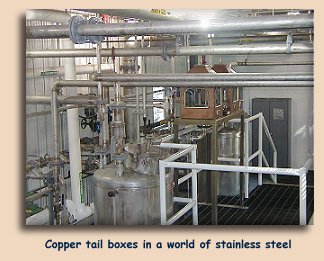 At a display of Heaven Hill's product line, Jim points out the Old Fitzgerald bottlings that Heaven Hill has acquired in the purchase. "Ol' Fitz" has been a well-loved bourbon for decades, and the folks at Heaven Hill are proud to be making it. The only changes they expect to make, says Jim, are to restore some of the "human touches" that were lost when production was first moved here from Stitzel-Weller. Jim next takes us to a large wall-mounted display showing a graphic chart of how the distillery works. We go over some of the ways in which the Bernheim distillery is different from what they were used to in Bardstown. Then he shows us one of the most challenging differences. The old Heaven Hill distillery was pretty much run by people flipping switches and turning valves. The Bernheim plant is entirely computerized. Fortunately, most of the operators applied to be hired on by the new owners, and the previous Heaven Hill staff were able to be trained to use the new technology.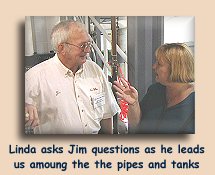 That was good, because the fancy computerized systems were designed to make whiskey the way United Distillers thought it ought to be made, but the whiskeymakers at Heaven Hill felt that wasn't how they wanted it done. So the engineers and operators immediately had to use their new training to re-write and re-program the plant to fit their own needs. One result is that Heaven Hill's familiar brands can be made efficiently without losing the quality people have come to expect, and another is that a brand such as Ol' Fitz can now get the kind of attention and craftsmanship it deserves. It's very encouraging to hear what Jim is saying.
As he takes us through the distillery, Jim points out how and why certain features were built the way they were, and in several places where changes have been made to improve the product quality. The Bernheim plant uses enclosed fermenting tanks. In all the distillery tours we've taken before, we've had ample opportunity to inhale the wonderful fragrance that surrounds open fermenters. But we'd never had our noses inside a closed fermenter before. Now that may seem like a small detail, and indeed it goes entirely unnoticed.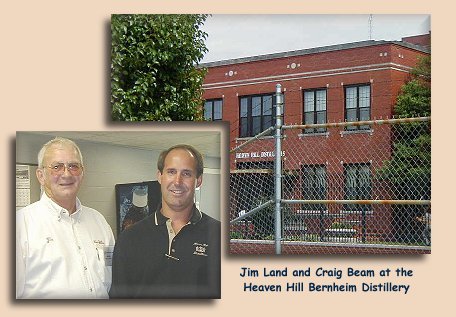 That is, until Jim cracks open the input hatch of one of these huge tanks and invites John to have a sniff. John takes a deep snort, expecting the familiar and delightful fragrance of yeast and whiskey and is quickly knocked backward by the intensity of it. We all have a good laugh, and you can bet that when Linda takes a whiff, it's with the proper amount of caution.
Jim makes sure we spend as long at we like at every portion of the tour, and that our questions (sometimes difficult ones) are all answered. His presentation is outstanding and, as we reach the end, we have a chance to meet and talk to Craig Beam, Master Distiller Heir Apparent. Craig also talks with us as if we were the most important people to ever visit Heaven Hill. The degree of hospitality is extraordinary, especially since we had simply dropped in, unannounced, at the end of what had already been a busy and disruptive day for the whole staff. I don't think we could have been more impressed.


Be sure to come with us and see the rest of the Heaven Hill facilities in Bardstown, including the warehouses where all Heaven Hill whiskey is aged, the bottling line, and the remains of the original distillery (with news photos of the horrendous 1996 fire that destroyed it).

Heaven Hill's Bourbon Heritage Visitors' Center in Bardstown, Kentucky -- 2005 and
Heaven Hill's Bottling and Warehouses in Bardstown, Kentucky -- 1998