Heaven Hill Distillery
Bourbon Heritage Visitor Center
Bardstown, Kentucky
This is an addendum. You should really read about our 1998 visit to Heaven Hill's warehouses and bottling plant here, and our tour of the distillery in Louisville in 2000 first. This visit came about as an opportunity to meet up with some friends and see the brand new addition to the Shapira brothers' Bardstown facility. It says a lot about Heaven Hill's relationship with the community that the company, which has always called Bardstown its home, has built this lovely center here, rather than nearer to the new distillery itself. Heaven Hill's distillery may be in Louisville, but it's heart (and its corporate office) remains in Bardstown.

Okay, so it's January 2005, and the Woodford Reserve distillery over in Versailles is holding another of their wonderful all-day Bourbon Academy learning sessions with Chris Morris and Mike Veach. Three of our friends, Brenda Peterson, Howie Stoops, and Linn Spencer are attending on Friday and then traveling on to Bardstown and Louisville on Saturday. They invite Mike and John to meet them at the Heritage Visitor Center this morning.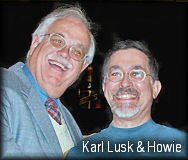 Our friend Carl Lusk and his wife also stop by to say hello and deliver a gift for Howie.
It takes only a couple and a half hours for John to drive to Bardstown. Mike is only about forty-five minutes away in Louisville, and Brenda lives in Bardstown.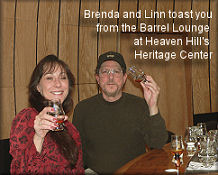 Howie and Linn's trip is a bit more travel-intensive, especially considering the weather conditions. Howie lives in Maryland and first drove to Linn's home in Virginia's Shenandoah valley. They then traveled together to Kentucky to attend the event in Versailles. Meanwhile, the worst winter storm of in years is bearing down upon the east coast, and tomorrow they'll get to test the surefootedness of Linn's Jeep as they drive back through all that.
Linda isn't able to come along for this trip, but John takes along his camera to bring home lots of pictures for her to see.
His brand new camera, which he just got yesterday.
The one he doesn't really know how to work, yet.
It's good thing that Linn's prolific with his own digital camera, or there'd hardly be any photos at all here. Thanks, Linn!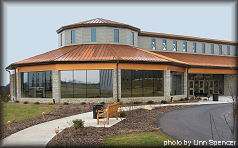 The Visitor Center, which opened in October of 2004, is set on a hill among the working warehouses of Heaven Hill Distillery.

It is a beautiful building, with design elements that suggest the warehouses themselves. The building is constructed using lots of American White Oak and Kentucky limestone, but most noticeable is the brilliant copper-sheathed roofing. There are also copper lighting fixtures along the paths, still gleaming and reddish. As time goes by the fixtures and the roofs will take on the rich verdigris seen on the finest thoroughbred stable buildings and the center will look even more spectacular.

As with all distillery visitor centers, there is a movie about eagles and corn and settlers and the proud commonwealth of Kentucky, and the importance of bourbon in its history.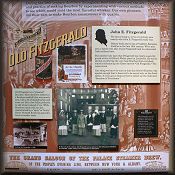 And there are displays of pictures and old products that depict the history of this distillery and its brands (some of which have only been associated with Heaven Hill for a few years). The treatment here is very nicely done, and includes a life-sized mockup of a farmer's or moonshiner's still, a wall of barrels with each barrelhead showing one of Heaven Hill's brand logos, and beautifully arranged photomontages presenting the history of their major brands. But the central feature, both literally (it's in the middle of the building)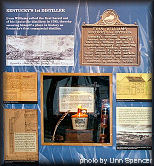 and as a focal point, is the tasting room. Built to resemble a whiskey barrel, both inside and out, it is of course, round. The bar inside is also round, with bartender working from the center and the guests seated in a circle. It's a large and brightly-lit room, so there isn't a claustrophobic feeling about it. The effect works very well. And there are other advantages, such as that the room focuses sound, making it easy to hear the bartender clearly from anywhere in the room.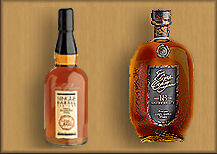 That's important, because the bartender is not really a "bartender" at all, in the conventional sense. She is the narrator and presenter of a tasting event which is part demonstration and part show. We were presented with tiny samples of mint and ginger to become familiar with the different smells one might encounter,

and with healthy samples of two of Heaven Hill's best bourbons to learn how to sense color, texture, flavor, and other differences.
Just about every whiskey distillery has a visitors' center, but the Bourbon Heritage Center at Heaven Hill is the pet project of Harry Shapira. Along with his brother Max and Jeff Homel,

Harry represents the present generation of the only completely family-owned bourbon distillery in the world. When it came time to design and build a new visitor center (the original distillery burnt to the ground in 1996), Harry obtained the services of Lynne Grant, a master of this art who has won awards for the visitors' centers she produced for The Famous Grouse, The Macallan, and Highland Park, all in her native Scotland. She is now a proud Kentucky resident and also director of guest services at Heaven Hill. Her native-Kentuckian counterpart, Christy Boone adds her own level of expertise to the operation of the guest facility. Our guide today has been Brenda, who appears to be noticeably more familiar with bourbon and how it's made than the guides on some tours we've taken at other distilleries. She's also our hostess for the tasting, and leads us through with logic, charm, and precision... and just enough (probably feigned) wide-eyed amazement to sucker us bourbon know-it-alls into following wherever she chooses to lead us.
A very enjoyable experience, and one that should not be missed if you're visiting Bardstown, Kentucky.

---
Be sure to come with us and see the rest of the Heaven Hill facilities in Bardstown, including the
Bottling and Warehouses
where all Heaven Hill whiskey is aged, the bottling line, and the remains of the original distillery (with news photos of the horrendous 1996 fire that destroyed it). We visited there in 2000.
And in 2002 we had the honor of being Jim Land's guest for a tour of Heaven Hill's Bernheim Distillery in Louisville. Come see where all this wonderful whiskey is made.