Brown-Forman Corporation
Louisville, Kentucky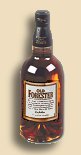 Brown-Forman, of Louisville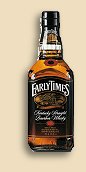 , is one of the oldest and most important names in the Bourbon industry. In fact, if you include Jack Daniel (which Brown-Forman also owns) it is probably THE oldest continuous American whiskey maker in existence. It is arguably the most innovative. The company originated in 1870 as a partnership between George Garvin Brown and his half-brother John Thompson Street. John (for whom his son Creel later named his own Bourbon "J.T.S. Brown's Son") left the partnership and eventually what had been his share became owned by George Forman, the company accountant. The name was then changed to Brown-Forman and has remained that way, even though Forman died only eleven years later and Brown bought his shares and the permission to use his name. Although the business has since grown and diversified into a major world-class corporation, it continues to be operated by the same Brown family, with fifth-generation CEO Owsley Brown II operating from its international headquarters in Louisville. And those offices just happen to be located at the site where Old Forester Kentucky Straight Bourbon Whiskey was made until 1979 (it's made just down the road now, at Brown-Forman's Early Times distillery). The famous water tower, shaped and painted to resemble a gigantic bottle of Old Forester, still stands high above the bottling plant. Despite rumors to the contrary, the bottle-shaped tank never contained anything but water.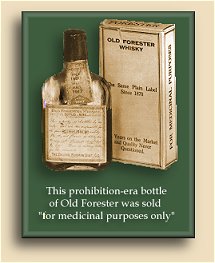 The contributions George Garvin Brown and his descendants have made to American whiskey include, among others, the idea of bottling the product in sealed containers to ensure purity. At a time when whiskey purchasers filled their jugs directly from a barrel which might (but probably didn't) contain the whiskey advertised, Old Forester (originally spelled Forrester, with two "r"s) was the first to use this means of quality assurance. It made Brown's whiskey less attractive to the unscrupulous, but made it infinitely more so for the upright... and also for the medical profession, which was Brown's original intent. That turned out to be a very important detail, however, when the dreaded Volstead Act reared its ugly head in 1920. George's son, Owsley Brown Sr. was president then, and he had the foresight to apply for one of the only ten available licenses for distilling "medicinal whiskey", thus keeping Old Forester (and Early Times, which the company had also purchased) alive during fourteen years of National Prohibition. Owsley Sr. also sold a great deal of whiskey in Europe at this time, which furthered the position of Bourbon as a beverage in other countries, even as it was illegal in its country of origin!
Another "recent innovation" in Bourbon has been the marketing of "premium brands", whiskey made with extraordinary attention to detail and marketed at a higher price. Brown-Forman has been doing that with Old Forester for so long that it hardly even seems like an innovation. And the brand is every bit as respectable as any of the new boutique brands produced by the other distilleries.
As far as boutique brands go, even more imaginative and daring than adding another so-called small batch brand is yet a further innovation, and one for which Brown-Forman deserves (and receives) a great deal of respect... the creation of a whole new, micro-distillery. Actually, it is both that and the restoration of one of the oldest existing distilleries -- the Labrot & Graham plant near Versailles, Kentucky. The new distillery uses copper pot stills, of the kind that haven't been used in America in decades. The capacity is tiny, smaller even than Maker's Mark. And, according to Chris Morris of Brown-Forman marketing, plans are to produce several very different Bourbons from those pot stills and market them as separate brands. We will be visiting the Labrot-Graham site later on this trip, and we'll cover more then. Suffice it to say that the new L&G facility, developed by Owsley Brown II, is the center of everyone's excitement at this time.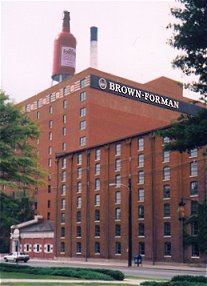 Tours of Brown-Forman are not offered to the public, and we didn't really expect to receive a positive response from a letter we wrote inquiring whether it would be possible to tour the facility during this year's seventh annual Kentucky Bourbon Festival, held in nearby Bardstown. Indeed, according to the anonymous person who responded, such tours are not available at that time, either. But, the same anonymous respondent added, "While it's true we don't have public tours, we have been known on occasion provided for special requests for visits and tours. We'd love to show you around while you're in for the Bourbon Festival". Needless to say, both Linda and I were absolutely ecstatic.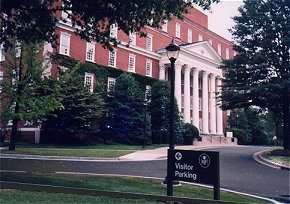 Further correspondence established an appointed time for our tour and we arrived at the international headquarters on Thursday afternoon. Actually we arrived nearly an hour early, dressed in clothing far more appropriate for an outdoor festival than for the corporate headquarters of a major world company. Our hostess was not yet available and it was left to Robbie Bell, the receptionist, to keep us entertained while we waited in the beautifully appointed lobby. Well, they couldn't have selected a better person for the task -- Robbie told us stories, both professional and personal, and made us feel right at home. She did this, in fact, while also commanding the phone and the entrance. After about forty-five minutes, we met with our guide, Marty Tichenor, Special Project Coordinator for Corporate Communications and Services. Marty, a lovely woman who never once (visibly) winced over our jeans, shorts, and t-shirts, then proceeded to give us, not the distillery tour that any other place would have, but rather the full corporate tour that might have been given to prospective executive employees or investors. As an employee of another major corporation, I was very impressed with B-F, Inc. and I think it would certainly be worth the while of any young person entering the job market to consider working here.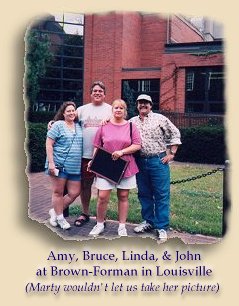 Marty showed us through not only the administration areas, but we also watched as bottles destined to contain Canadian Spirit were fed into the bottling line. To get there, we went down one floor and crossed under the highway through a display-lined passageway named, appropriately, "Bourbon Street". As we walked all through the facility, Marty pointed out many conveniences for employees and told us about the lifestyle, which was pleasantly surprising to us (I hesitate to go into detail, but let's just say that this does not appear to be a stuffy, sterile, "corporate" kind of company to work for -- in fact, we all agreed that it would be fun to be part of this team, especially on Friday evenings). The grounds themselves are really beautiful, a far cry from the surrounding area (a not-really-all-that-savory neighborhood of downtown Louisville). Wandering within the Brown-Forman walls, though, you hardly realize you're in a city at all. The landscaping makes you feel like you're in a small town like Early Times or St. Mary, where these fine whiskeys began so long ago.
Among the items in my personal collection of American Whiskey stuff are some Bourbon-related advertisements I've found at flea markets and framed for display. I brought two of these with us. One is an Early Times ad from 1959, the other an Old Forester ad from 1945 commemorating the Silver Anniversary of the brand. I had asked Marty if she, as a company representative, would sign them for me. Instead, she called upon Jack Smart, Assistant Vice President, who left his office to come visit with us and sign the advertisements. Again, I was deeply honored. Marty also attempted to contact Lincoln Henderson, the master distiller, to meet us, but he was not available (most likely he was involved with the Bourbon Festival activities).
We were very impressed with Brown-Forman, and very honored to have been able to visit this company and meet some of it's people. We never got an impression of exclusivity from any of the people we met at B-F, Inc., but later, when we would mention our excursion to other Bourbon industry people, we noticed surprise that we had actually been accepted for a personal tour. Well, the impression may exist that it's hard to "get into" the corporate HQ, but Robbie, Jack, and especially Marty certainly made us feel right at home.
Jump ahead two years to September 2000, and visit the Early Times distillery in Shively with us, where Brown-Forman bourbons are made... Early Times Distillery Shively, Kentucky