Brown-Forman Corporation
The Old Forester Distillery
a.k.a. Early Times Distillery
Shively, Kentucky
We seem to have good luck when we visit the Brown-Forman facilities. Neither the Louisville landmark Old Forester distillery, which is now only used for bottling and storage, nor the Early Times distillery where both Early Times and Old Forester (and Woodford Reserve) are actually made, offer public tours. In fact, while looking through all our books for information on the Early Times plant, we found very little, and no photographs at all.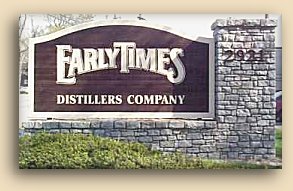 Two years ago, on a lark, we wrote to Brown-Forman requesting a personal tour and were amazed to be invited. That day, chronicled in these web pages, we were shown the same warm hospitality that we've seen consistently in all the Kentucky distilleries. Our corporate guide, Marty Tichnor, showed us through areas where very few outsiders get to go, and when we happened to mention to other bourbon-industry folks that we'd toured the general offices, some were visibly shocked. We also saw the bottling line of the Old Forester distillery, which is in use (they were bottling Canadian Mist at the time). Unfortunately, although we certainly appreciate being given the Grand tour, what we'd really wanted was to see how the bourbon is made. And that is done at Early Times, another distillery that doesn't offer public tours.
Two years later, and we've seen a lot of distilleries by now. We came to Shively today to visit the remains of the old Stitzel-Weller distillery, and to take some pictures. We knew Early Times was in the area, and when we finish at Stitzel-Weller we drive into the Early Times driveway with the idea of taking a few photos of the building exteriors. Stopping at the guard station, we ask permission and the guard sends us over to the administration building. Now, it's good to realize here that it's about a quarter after four in the afternoon. Most people are getting ready to shut down whatever they do and leave. And the gracious woman in the front office says she believes there would be no one to give us a tour, but she went back to look anyway. "Even if you can't see inside, you can take pictures of the outside; and I'll bring you a couple of brochures and souvenir pens". Which she does. But she also brings production manager Glenn Glaser back with her. With a big smile, Glenn says he'd be happy to show us around. I look at Linda and she at me, and we nearly break out laughing at our good fortune.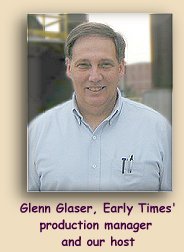 Early Times Straight Bourbon, and later, Kentucky Style Whiskey, have been made here by Brown-Forman since 1940. The distillery was built five years before that as the Old Kentucky Distillery. Early Times, on the other hand, had belonged to Brown-Forman since 1923 when the company bought the original Early Times distillery near Bardstown and all its stock during Prohibition.

Before that, it had already been a well-known brand for years and one of the earliest brand names in American bourbon history, having been founded in 1860 by Jack Beam (Jim Beam's uncle). The distillery made four brands, of which the premium, eight-year-old whiskey was Early Times. Its popularity continued under the Brown family, and by 1953 it was the top-selling brand of bourbon in America, maintaining high sales for thirty years. In 1955 Brown-Forman completely overhauled and modernized the plant, and in 1979 they closed their Old Forester distillery in Louisville, moving production of Old Forester bourbon to Early Times.
At around that time an important decision was made that would affect the quality of the two brands. Old Forester was chosen to be the premium bourbon, and Early Times became two distinct products. One of these, Early Times Kentucky Straight Bourbon Whiskey, would no longer be sold in the United States. To this day, it can only be found overseas. The other, Early Times Old Style Kentucky Whiskey, is a fine product which doesn't meet the criteria for being labeled "bourbon" or "straight whiskey", due mainly to being aged in used, rather than new, oak barrels. The age of the bourbon has also been reduced, although there is some truth to their claim that it isn't the years that count, it's the number of hot/cold cycles the bourbon goes through. By the use of brick warehouses with climate control, Early Times is able to create more hot/cold cycles than the two per year that nature provides, and the result is greater "maturing" in fewer actual years.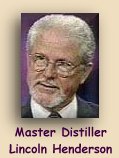 And while it's true that Early Times is no longer the premium brand it once was, it's considered to be one of the best in its target category, which is as a "well brand" for bars that care about the quality of the liquor they serve. And it's still one of the top selling whiskeys in America. That's the "Old Style Kentucky Whiskey"; the bourbon is a best-seller in Japan and Europe.
The premium bourbon made at Early Times in Shively is Old Forester. Many people don't think of Old Forester as a premium brand, because it was never given all the publicity that we've grown accustomed to seeing around a so-called premium brand. It also didn't get the inflated price, although it does sell for more than Early Times does. A marriage of four, six, and eight year old bourbons, and heavy on the rye flavor, Old Forester was a classic "boutique" bourbon before anyone ever heard of one. Master distiller Lincoln Henderson is responsible for the selection of barrels that make up Old Forester, as well as Early Times (which explains how that cost-effective whiskey can still be such a finely crafted liquor).
There is also a SUPER-premium whiskey that pours from the still here. In 1996, Brown-Forman opened their multi-million-dollar restoration of one of bourbon's most historic sites, the Labrot & Graham distillery in Versailles. That plant is home to the only pot still bourbon distilling process in existence. The whiskey produced there would be utterly unique. They would also be six to eight years or more in the making. That is, the whiskey produced there in 1996 will not be ready to be bottled until at least 2002. In the meantime, there needed to be a brand associated with the Labrot & Graham Distillery, and it had better be a pretty good brand.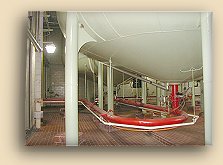 Lincoln Henderson selected 1000 of his best barrels of Old Forester produced at Early Times, aged it in the Labrot & Graham warehouses long enough to be able to call it Labrot & Graham, and bottled it there as Woodford Reserve. The whiskey was a hit. A big hit. In fact, it was such a hit that more would need to be produced to backfill the cases shipped. Woodford Reserve, actually the product of Early Times Distillery, is such an award-winning smash that it's been announced that it will continue even after true Labrot & Graham-produced bourbon is ready for market.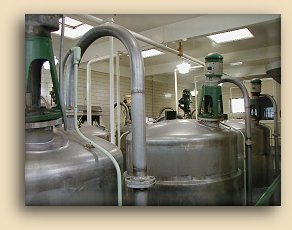 Glenn took us though the whole plant, starting at where the grain is brought in, the corn and rye by truck and the malt via a railroad car, They're very careful about the grain that goes into their whiskey, and they don't hesitate to reject a shipment if it doesn't meet their standards. We saw the barreling room, where whiskey is dumped into new or used oak barrels, depending on the destination of the final product. Glenn showed us the fermenting tanks (where John sniffed carefully, with knowledge, newly acquired from his experience at Bernheim, of the potential dangers), the stills, the doublers, and the control room. He showed us the computer and the main panel. Unlike more modern plants, the computer here is used simply to automate repetitive tasks such as switching valves and setting temperatures. On the main panel is an advertising piece, a thermometer emblazoned with Early Times slogans that hangs on the panel itself. According to Glenn, its main purpose is to cover a hole in the panel.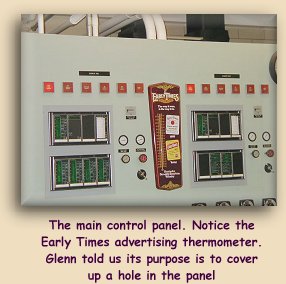 He also showed us all the different views he could display on the single computer monitor. The computer display is decidedly low-tech in today's Windows and Internet Graphics world. The distillery program runs in DOS. As Glenn speaks, the office phone rings... the display is replicated on monitors throughout the distillery and his changing of the screens has caused some concern. He reassures the caller that everything is all right.
There is a lot of whiskey being made here, including, for the past couple years, most of Heaven Hill's production. When their distillery in Bardstown burnt to the ground in 1996 (in the hottest fire ever recorded in human history), they were left with contracts to fill and no way to fill them. Smelling mortal danger to one of the biggest distilleries in the business, their closest competitors almost immediately began moving in... to help get them back up on their feet again. Making their Early Times facilities available to Heaven Hill, Brown-Forman helped them meet their contracts and stay in business through would have certainly been a fatal time in most other industries. All through the long period of locating a new distillery, and of setting up there, Heaven Hill's bourbons have been made at Early Times. And even today, we are watching batches of Heaven Hill sour mash being pumped into the fermenting tanks.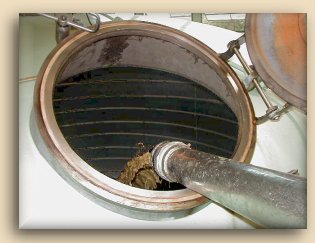 Of all the beautiful aspects of the bourbon-making world, probably the most awesome is this intense spirit of "family" that really and truly does prevail among the distillers. Even though all but one of them (Heaven Hill, ironically) are owned by large corporations with investor-stockholders and accountants and MBA's, they continue to watch out for one another as if they were all members of one family. And actually they pretty much are; scattered liberally among all the distilleries are Beams and Dants and Ripys, Medleys and Streets and Willitts, Nallys and Wathens and, of course, Browns. George Garvin Brown founded the Brown-Forman distillery along with his associate George Forman in 1870. Forman died only eleven years later and Brown bought out his share, but he kept his partner's name on the sign.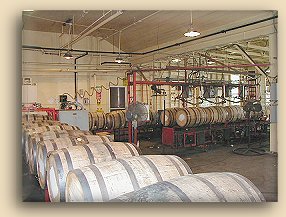 And now, even though the Brown family business has grown into a worldwide corporation dealing in many things besides bourbon (Lenox china, Hartmann luggage, and Gorham crystal and silver, among others), it's still run by grandson Owsley Brown II...
... and George Forman's name is still on the sign.
George Garvin Brown's brother, named after their father, John Thompson Street Brown, founded his own distillery which later came to be known as JTS Brown's Son.
Today, JTS Brown Bourbon is made and bottled by Heaven Hill. Some newer bottles may even have been made here at George Garvin Brown's grandson's distillery by...
... Heaven Hill master distillers Parker and Craig Beam, descendants of...
... Jack Beam, who once, long ago, built a distillery known as Early Times.
During the tour, Glenn asks if we have a web page, as he feels as though he recognizes us. It turns out that he is familiar with this site, and also with our favorite discussion forum where he is also a member We really enjoyed talking with Glenn, and appreciate the time he spent with us. One of the phone calls he got while we were chatting seemed to be from his wife; he told her he'd be late. We were truly honored.

---
Two years ago we visited Brown-Forman's corporate headquarters in Louisville. Come with us to learn even more about this wonderful family and its contributions to the world of Bourbon Whiskey... Brown-Forman Corporate Headquarters