American Whiskey
September 12 - 16, 2001 -- The Kentucky Bourbon Festival
---
The Tenth Annual
Kentucky Bourbon Festival
Bardstown, Kentucky
Oh Beautiful
For Spacious Skies,
For Amber Waves of Grain...
BOURBON WHISKEY is no stranger to violence and death, no matter if it's on a wild and rowdy Saturday night or a bright and peaceful Tuesday morning. Bourbon marched with Americans wearing both grey and blue a hundred and forty years ago and it was the preferred spirit of the American president who ended the most violent war we ever fought with the most violent weapon ever used. That would have been Give-'em-Hell Harry Truman, of course.

The history of bourbon and the history of America are very much one and the same. And, unfortunately, the premier celebration of this noble spirit coincided this year with a tragic event that will forever be engraved in our hearts and in American history.
Over 5,000 souls were lost yesterday morning, and untold numbers of people were directly affected by the horror of that terrorist attack. It's not impossible that some of those who lost their lives had intended to be in Bardstown this week to attend the Tenth Annual Kentucky Bourbon Festival. Among the millions who make up the rest of America, some of those who would have attended were too emotionally torn by the gravity of events to even consider a celebration. Others, like ourselves, struggled long and hard over the decision. And among those, many still chose not to attend. After calling the Festival Committee and learning that the board had met and voted not to cancel, we decided to go.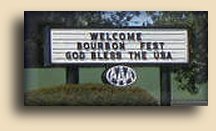 There were very many others who did the same.
And for most, that wasn't as easy as our jumping into the car and driving a couple hours. As of Wednesday morning, all domestic air traffic over the United States was still grounded. There were rumors that flights might resume by this afternoon, but nothing was certain yet. And of course other public transportation was a nightmare of congestion as people with much more pressing needs than a bourbon festival tried to get from where they were to where they needed to be. And no one was even speculating about foreign flights. Yesterday, those were diverted to Canadian and other non-U.S. airports, and they are not expected to resume right away even after domestic flights start back up.
But people got here. Lots of people. From all over. In some very creative ways. Of course, many who would otherwise have flown ended up driving long distances to get here. Such as Kris and Chris, a young couple from New York who had intended to fly to Kentucky, but ended up driving instead... straight through, nonstop. Another gentleman used his talents to secure a seat on the first commercial airliner out of Miami on Thursday, only to find himself stuck in Atlanta with no such thing as a connecting flight. He managed to find the pilot of a small plane, convinced him to fly him to Lexington where he rented a car, and then drove the rest of the way. Some people from Japan, unable to get a flight into America, went to Vancouver, in Canada, then rented a car there and drove it to Seattle, Washington, and then were eventually able to get a flight from there to Louisville.
---
WEDNESDAY - SEPTEMBER 12, 2001
THERE'S A GREAT deal of speculation about who's going and when. Linn & Vickie Spencer, who we met here last year, are driving in from Virginia and expect to arrive around six. Our Cincinnati friends Marvin and Evelyn Franz are taking their time and expect to get there late in the afternoon. We spend a leisurely morning and figure on arriving in mid-afternoon, well ahead of anyone... WRONG! Marvin calls us on our cell phone while we're on our way, asking where we are. They're already in Bardstown and ready for lunch. When we arrive at the Best Western General Nelson Motel, our traditional favorite, Linn, Vickie and Bill Legge are already there. Bill is another friend we met originally here on the internet and kept in touch with, mainly through a bulletin board forum. Bill also has an excellent site of his own (http://home.kc.rr.com/mashbill). If you're interested in bourbon you might want to wander over there for a look. We grab the bottles we brought and join them before we even take the time to unpack the car.
| | |
| --- | --- |
| | This is our fourth year of attending the Kentucky Bourbon Festival, and we've chronicled two others in these pages already. So if you want to get a good idea of what the festival is, and how it all came about, and how it all works, and just a whole bunch of other neat stuff, click here to check out each of the other two years (we didn't do a web page for 1999) and then come back to this page. |
We exchange bottles of hard-to-find bourbons that we'd brought for each other, taste different bourbons, and just talk. Bill and Linn have brought along a few of their favorite pistols (they're both collectors and shooters) and they're showing them off. Both are customizers and proud of the modifications they've made. I guess it's a lot like hot rodders or computer geeks ("Oh it's basically a stock Binford .4557, but I've replaced the handle, the barrel, the trigger, the front and rear sights, the safety catch, and the action. And I added a dual-action, water-cooled frammis guard"). They're hoping to find a place to do some shooting. Linn has come up with a great idea for a contest, using a ten-dollar bill as a target. That would relate the whole event to bourbon history, as the object would be for the contestants to shoot out the head of Alexander Hamilton, America's first Secretary of the Treasury, who created the excise tax on whiskeymakers and who almost single-handedly inspired the great Whiskey Rebellion. Unfortunately (John's not a shooter, but even he'd have enjoyed participating) that doesn't turn out to happen. After awhile we decide to take a walk through town and eat dinner at our old favorite, Dagwood's Restaurant and then back to the motel for more partying.
---
THURSDAY - SEPTEMBER 13, 2001
KEN WEBER's TASTING SYMPOSIUM
at the BUFFALO TRACE DISTILLERY
THIS MORNING we walk over to breakfast at the Stephen Foster Buffet, next door to the motel, and find Marvin and Evelyn there. They're accompanied by their daughter and her husband, who drove two and a half hours down from Cincinnati this morning to bring Marvin his prescription medicines, which he'd forgotten. And then they'll have to drive right back, because there's no one to handle the payroll distribution if she doesn't get back, and she can't get hold of anyone to replace her.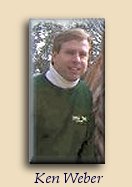 After breakfast, we head across the street to the Oscar Getz Museum of American Whiskey History to visit with Flaget Nally, Jo and Jean Beam, Mary Hite, and Mike Veach.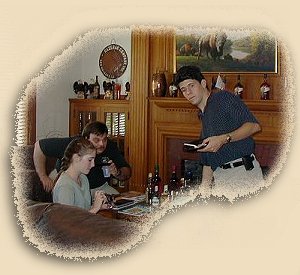 We meet the Giammarcos, Kris and Chris, the young couple who drove from New York City since they couldn't fly. While here, we bought a copy of the new second edition of Sam Cecil's book, The Evolution of the Bourbon Whiskey Industry in Kentucky . This version sports a different cover, and among other changes, it has an index -- pretty important for a reference book.
At 12:30 we meet in the parking lot of the My Old Kentucky Dinner Train with several others for the long-awaited tasting party that Buffalo Trace brand manager Ken Weber is putting on especially for those of us who have mostly known one another through the bulletin board. The idea originated in an email conversation between Ken and fellow member Omar Montejo way back in the early spring, and they've been planning it all year. The others are Mike Veach, Linn and Vickie, Kris and Chris, Marvin and Evelyn, and Bill. Unfortunately, the grounding of commercial air traffic has left poor Omar unable to attend the event he'd worked so hard on.
The event , held at the Buffalo Trace distillery just outside of Frankfort, turns out to be truly outstanding. It begins with the hour-long drive to Frankfort, with Ken and Mike in the front seat holding a running conversation about bourbon history. When we arrive at the distillery, we're given a complete tour of the plant. For some, this is the first time they've ever seen a distillery and the tour is a good one. When it is over, we proceed to the Stoney Point Mansion, high on the hill above the distillery, for the buffet and tasting. Joining us here is master distiller emeritus Elmer T. Lee who tells fascinating stories about bourbon and the folks who make it. We love visiting with Elmer. He must be about eighty-two now, but he keeps looking better every time we see him. Most of us had brought bottles of special bourbons to share, and Ken had some wonderful tidbits as well, including some of Elmer's own 107-proof (which is John's favorite bourbon and which hasn't been sold for years). There was also some very old bourbons from when this was the Stagg Distillery and even some corn whiskey that Schenley used to sell.
There are chafing dishes with quiches, meatballs, and spicy chicken wings, and fancy fruits and sweet snacks, as well. All of this is set in the gorgeous, oak-panelled living room of what had once been Colonel Albert Blanton's personal residence. Used now as offices and as the entertainment center for VIP guests, we could hardly have asked for a more impressive backdrop for a very enjoyable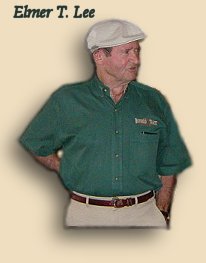 afternoon.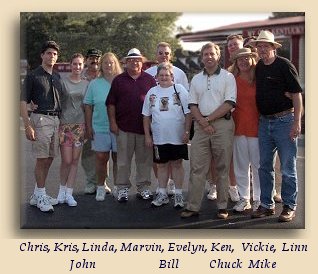 Afterward, as we disembark from the van back at the parking lot in Bardstown, we can't help but notice a stranger lurking in a parked car watching us. It turns out to be none other than Chuck Cowdery, who has driven down from Chicago. Chuck, known to the rest of the world as Charles K. Cowdery, is a popular author of articles about American whiskey published by several magazines in the United States and Europe. He's also the producer of a television special about the history of bourbon in Kentucky, and he publishes his own quarterly newsletter, the Bourbon Country Reader. Chuck, who is also involved in the online forum, knew from the our messages that we'd planned to meet and leave from this parking lot, so when he saw us gathered there as he arrived in town he figured it was us and came over to join us. Several of us, including Chuck, head back to the motel for more sampling, and then to dinner at Kurtz Restaurant. Linda and I have never eaten there before, but we will now keep it on our "must do" list.
---
FRIDAY - SEPTEMBER 14, 2001
FESTIVAL PRESS PARTY at FOUR ROSES DISTILLERY
THIS MORNING we're planning to try getting to the "Talking Bourbon" event, held at Seagram's Four Roses Distillery as part of the Bourbon Festival. This is a reserved event that we hadn't planned on attending until the last minute, and so we don't have tickets or reservations for it. But we're hoping that, due to the light crowds this year, we might have a chance to buy tickets and attend it at the last minute.
The Four Roses Distillery is in Lawrenceburg, about a forty-five minute drive from Bardstown. We were planning to board a bus which the festival has arranged to take visitors, but since Chuck is going anyway, he offers to take us and Bill with him. As we're driving along the beautiful Bluegrass Parkway, John's cell phone begins to ring. The caller turns out to be none other than our missing Omar. He's managed to get onto the first commercial flight from Miami to Atlanta and after a string of connections reminiscent of an old comedy movie, he is now in a rented car, also on the Bluegrass Parkway, and headed toward Four Roses from the other direction.
When we arrive at the distillery, the gate guard directs us along a road leading up a hill and behind the buildings, where we find ourselves in a setting somewhat different than what we'd anticipated. Apparently, this is not the open-to-the-public "Talking Bourbon" event. This is the Kentucky Bourbon Festival Press Party, and only invited members of the press are expected be here. Chuck is among the invitees, and has a press pass awaiting him at the check-in table. Also arriving to begin their festival at Four Roses, we see Greg and Jo Kitzmiller. Greg, who lectures with the Indiana school system, had obtained a press pass before coming. Linda, John, and Bill have no such press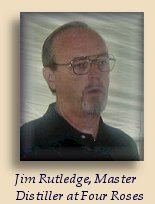 passes, but we try to look as official as possible. We'll never really know how effective (or not) that might have been, though, because soon afterward Omar arrives, and he immediately begins asking for Pam Gover, the festival executive director. When she learns he is here she comes right over and treats him as if they'd been old friends who hadn't seen one another for years. In the meantime, no one says anything to us, and we all go into the tented area together and take our seats.
The presentation is given by Four Roses master distiller Jim Rutledge. It really is a pretty thorough trip through the bourbon-making process, quite a bit more detailed than what you'd find in a normal public tour. The people here (which I dare say do include us, even if we don't have press credentials) are obviously familiar and knowledgeable, and the presentation takes that into consideration. There are nicely designed props, including colorful cutaway models of the distillery equipment showing how a column still works. Jim's presentation includes some technical aspects of distilling that we've never heard (or even read) anyone cover before. Unfortunately, the discussion is severely hampered by the fact that the only cold, blustery wind of the entire festival weekend has picked just this time to blow across this lovely hillside, bringing discomfort to just about everyone gathered here under the tent canvas. Even Jim, standing and wearing a light shirt, seems to be shivering and just wishing this whole thing were over.
The presentation is followed by a tour of the distillery.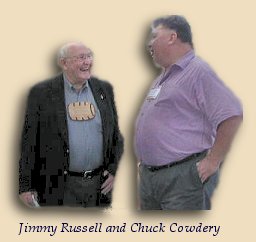 While not to be compared with the personal tour we had with Al Young, it's still a very good tour. When that's over, we have a chance to taste some rare Four Roses bourbons that are not available in the United States and to meet and mingle with distillers and important figures from all the distilleries. Indeed, this looks to be a sort of Kentucky Bourbon Festival of its own. Like the Black Tie Gala (which we are not attending this year) just about everyone in the bourbon industry Who's Who seems to be at this event. We get to meet Gary Gayheart, the current master distiller at Buffalo Trace (and Ancient Age for years before that). And along with a chance to say hi to Fred Noe, we get the opportunity to meet his father, Booker, for the first time. Our old friends Lincoln Henderson and Jimmy Russell are here, as is Bill Samuels and Jerry Dalton and so many others. We get to visit for awhile with Al Young, who proudly tells us that he's now a grandfather. And we meet Colonel Mike Masters, author of the cookbook, "Hospitality, Kentucky Style".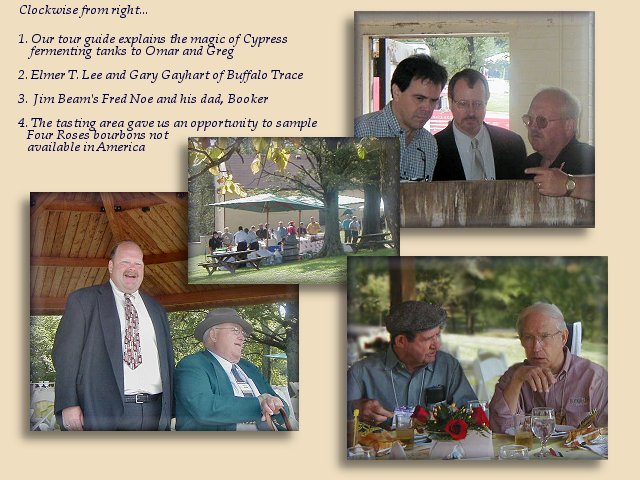 The Kentucky Bourbon Festival's main musical attraction this year is the band The Kentucky Headhunters. They will be the featured act at the festival grounds Saturday night, but they're here to perform at this event today. There's also a full luncheon and who knows what all else, but like Cinderella at the ball, we have to leave early in order to get back to Bardstown for the Bourbon Heritage Panel. Chuck is scheduled to be a panel member, so he needs to be back at least a half hour before the show is to begin. We make it with time to spare, and while Chuck is getting ready, we and Bill grab a bite at Xavier's Restaurant, located in the basement of Spalding Hall. Well, this is now another addition to our "must do" list.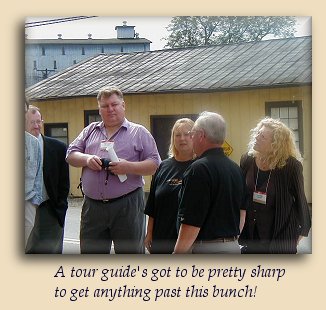 There is a front door to Xavier's, but apparently it isn't open for lunch. Instead, you have to enter by way of the kitchen door, which is also a bakery, and then go into the restaurant from there. Once inside, though, it's really nice. It's full of arches and nooks and looks like a romantic place to have dinner. Lunch is simple, but delicious, and we finish just in time to go upstairs and take our seats for the Bourbon Heritage Panel.
---
BOURBON HERITAGE PANEL DISCUSSION
THIS YEAR the panel, emceed as always by Mike Veach, consists of Jerry Dalton, who made whiskey for years at Barton and is now master distiller for Jim Beam; Chuck Cowdery; Dave Pickerell, who is Maker's Mark's general manager; the legendary Buddy Thompson, who was the owner of the Glenmore distillery in Owensboro when it was in its prime; and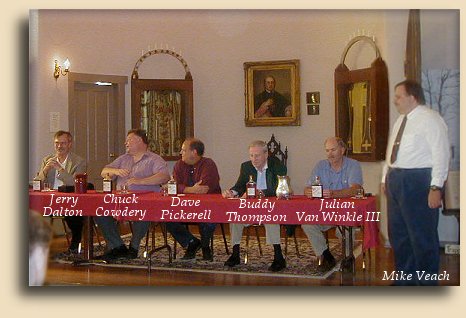 the equally legendary Julian Van Winkle III, president of Old Rip Van Winkle.
Mike usually has a couple of ideas in mind that he'd like the panel to focus on, and he doesn't spend a lot of time "sneaking up" on the subjects. With a writer of bourbon history and representatives from four distilleries heavily steeped in family tradition on the panel, Mike starts right off by turning the discussion to how bourbon history has been affected by the traditions of the bourbon-making families.
The renowned Stitzel-Weller distillery remains an icon in the world of bourbon whiskey even today, thirty years after it passed from the Van Winkle family's ownership and a full decade after the last drop of whiskey was distilled there. More than just its memory lingers on, though. Many bottles of fine Old Fitzgerald and Old Weller bourbon, made at Stitzel-Weller, are still available on store shelves today, although the whiskey in these bottles won't have been made by the Van Winkle family. Bottles from those days (mid-'70s and earlier) are scarce collectors' items. However, Julian's own brands, Old Rip Van Winkle and Van Winkle Family Reserve, are considered among the most excellent bourbon whiskey ever produced.
Dave Pickerell represents the Star Hill distillery run by the Samuels family, which is much better known by the name of its only product, Maker's Mark bourbon. The Samuels family whiskey-making tradition goes back seven generations, but, according to the company bio, that was about five generations of not-so-great whiskey. On the Maker's Mark web page, current president Bill Samuels, Jr. quotes his mother as saying it "could blow yer ears off". In the early 1950s Bill's father, T. William (Bill Sr.) Samuels made the radical decision to break from that family tradition and produce a high-quality bourbon he could be proud of. His desire to separate the "new" Samuels product from the old involved not only a new recipe, new yeast, and moving from the old distillery near Bardstown to a farm in Loretto, but went even so far as to abandon the old brand name, which was his family name. Today, the T.W. Samuels distillery no longer makes bourbon (although fine spring water is bottled at the site), but the brand still lives on as a Heaven Hill "commemorative" label. And the Maker's Mark label and distillery is now actually owned by Allied Domecq, a French conglomerate. Nevertheless, the real T. William Samuels (Bill Jr.) is running the distillery, just as his father did. And the (now much improved for the past two generations) family tradition lives on.
For most people not intimately familiar with the whiskey business, it's hard to hear to hear the word "bourbon" and not think of the Beam family. For those who are familiar, it's impossible. Not only the branch of the family that provides us with the largest-selling bourbon on the planet, Jim Beam, but no less than two other major branches of the Beam family have provided important parts of the bourbon whiskey story. The number of bourbon brands, past and present, that have not had a Beam in their history somewhere are very few indeed. As master distiller for Jim Beam Brands, Jerry Dalton gives us some insights into that branch of the family.
Another old, old, Kentucky family whose members helped shaped the history of bourbonmaking over the last two hundred or so years is one with several branches and combinations of branches. It includes the descendants of John Thompson Street (JTS) Brown, and is represented today by Owsley Brown II, CEO of Brown-Forman, Inc. (Old Forester, Early Times, Labrot & Graham) and Buddy Thompson, whose branch of the family owned Glenmore Distillery until it was bought out by United Distillers in 1991. Glenmore, located in Owensboro, about a hundred miles down the Ohio River from Louisville, was one of the giants in the industry. And during this time the Thompson family owned and operated it.
As one of the premier chroniclers of all this bourbon history (and more), Chuck Cowdery brings to the discussion the ability to tie all these fine stories together and show how each of these families influenced one another over the generations. Of all these great family enterprises, only one (Heaven Hill, who is intimately involved in the Bourbon Festival but unable to participate today) is still completely family-owned by the Shapiras, as it has been since its founding in 1934. And, although Brown-Forman is a large corporation, with other businesses such as wine, leather goods and chinaware, the Brown family has always been in control. Others have changed over the years, especially recently, and that is the subject of much of today's discussion as well.

---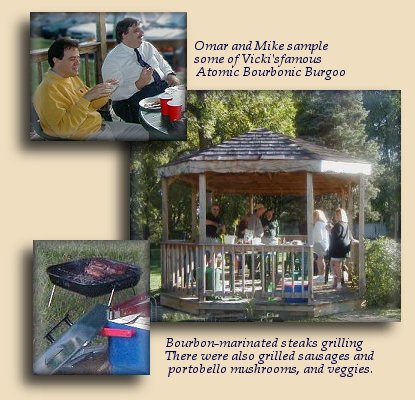 This afternoon we have a cookout at the motel, as we and several others set up the little charcoal grill that Linda bought for the occasion, and haul many, many bottles of fine Kentucky Bourbon to the gazebo, located in the back. We have brought bourbon-marinated steaks and home-made guacamole for the affair. Mike proudly offers his delicious Bourbonated Baked Beans. Linn and Vickie pass out bowls of Vicki's Famous Atomic Bourbonic Burgoo, a big hit. Bill has brought us all Labrot & Graham bourbon chocolates. Greg and Jo have snack veggies and some great Portobello mushrooms to grill, and Chuck has smoked sausages, which we also grill. Omar is here, and so is Kris and Chris.
As a refreshing change from our normal routine, we spend the afternoon eating, talking, and sipping fine bourbon (from plastic cups)
---
SATURDAY - SEPTEMBER 15, 2001
WE EXPLORE the festival grounds this morning, looking for the site of the Barbeque Cook-off. We see signs for it, and it's mentioned in the festival flyer, but there doesn't appear to be anything set up for it, and no one we ask seems to know anything about it.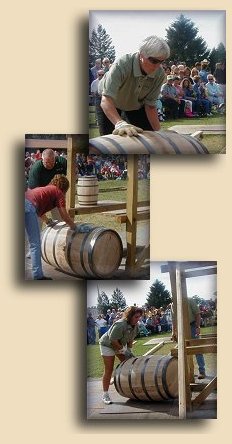 But while looking, we spend a few minutes visiting the car show, which is just a few display hot rods and restored cars, mostly from the local Whiskey City Cruisers hot rod club. The ones we have at home in the WalMart parking lot are much more impressive. And that's surprising, too, since there's a strong historic connection between whiskey distillers and the drivers of hot rod automobiles. Some say that the whole idea of a outfitting a "stock"-looking car with a big motor and heavy-duty suspension derives from a common method of distribution for, shall we say, unlicensed whiskey makers. In the days before police radios, the successful marketing of beverage spirits often involved outrunning a patrol car or two.
And we also get to see the famous Barrel Rolling competition for the first time. This is a major attraction, especially for the many people who work in the distilleries. There are men's, women's, and team divisions and the competition is keen.
Its a "fun" event, but it's certainly not a "goofy" one. The competition is as serious as in any other sport and the teams and individual athletes work at it all year (in the men's event it's not likely that anyone but professional barrel handlers would qualify to be contestants). It's also considerably more demanding and dangerous than, say, a company bowling or baseball team; these are full barrels, weighing around 500 lbs each. It takes muscles to start them, and once moving they're not easy to stop or turn. Each contestant needs to roll one barrel along a wooden track with absolutely no room for error, stopping halfway to make a right-angle turn. She then needs to stop the barrel, at the end of the track, this time on an exact mark. She must turn it, wrestle it around until it's lined it up precisely so that the bung in the side of the barrel will be pointed straight up when it gets to the end of the rack, and then run it home.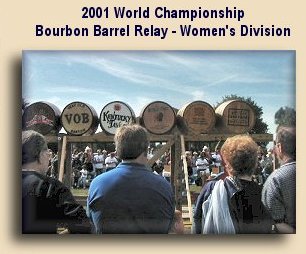 Points are taken for even the slightest deviation from straight up. In the photo on the right, both the VOB and Kentucky Tavern barrels would be considered "off". She needs to place five barrels in the rack to complete the race, and of course the starting alignment will need to be different for each barrel she does. And all of this is being run against the stopwatch and accompanied by the cheers of her team and the crowd
By the time we get back out to where the food concessions are, we're more than ready for a Blue- cheese 'n'Barbeque wrap for lunch.
---
GETZ MUSEUM MASTER DISTILLER'S AUCTION
Around noon, Linda volunteers to go over and help out at the Master Distillers' Auction where Mike and Flaget put her to work, along with Marnie Keesy, copying and collating all the auction item lists. We also visit with Jo and Jean Beam.
If there were fewer people at the Festival this year, you sure wouldn't know it from the Master Distillers' Auction. The room is packed, with rows of people standing in the back. Auctioneer Karl Lusk gets the bidding going and works the crowd to a minor frenzy. Bids are flying, and in the melee John manages to come away with a pint bottle of Early Times bourbon from the '60s (when they made bourbon) and Linda snags a bottle of Mount Vernon Rye from the '30s.
After the auction, we take Bill over to the food vendors' court to introduce him to Blue-cheese 'n'Barbeque wraps for dinner, so we're pretty well stuffed when Chuck and Linn stop by our motel room a little later to invite us to join them for dinner at Talbot's Tavern. Greg and Jo are going, too. Not long after they leave, though, we decide to walk over to the tavern and join them for drinks and maybe an appetizer. As we strolled back to Spalding Hall, for Mike's Academy of American Whiskey event , we spot Marvin and Evelyn sitting on the porch of Jailer's Inn, the bed'n'breakfast where they're staying this year.

---
OSCAR GETZ ACADEMY of AMERICAN WHISKEY
This evening at Spalding Hall, Mike, Chuck, and United Distillers master distiller Ed Foote are conducting the first annual Academy of American Whiskey for the benefit of new bourbon enthusiasts. It's also for the benefit of the Oscar Getz Museum, as there is a fee for this event. We've come to lend moral support and help out. And besides, Chuck and Mike are involved and we think it'll be a gas.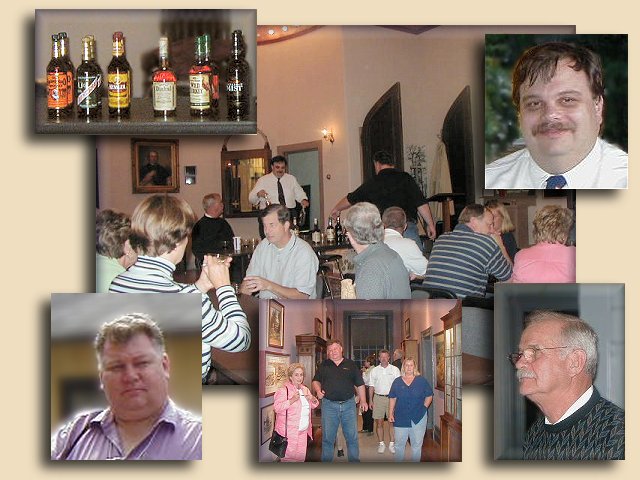 The basic planning for the evening is pretty good, the idea being that we will sample six different types of American whiskey and learn what makes them different from one another. The six whiskeys are,

Old Grand Dad, a traditional bourbon made with rye

Old Fitzgerald , a wheated bourbon

Kessler, an American blended whiskey

George Dickel, a Tennessee Whisky

Wild Turkey Rye, a rye whiskey, and

Canadian Mist, a Canadian Whisky
Among Mike, Ed, and Chuck there is a lot of discussion about each of the types and the elements that identify them. Unfortunately, the discussion proves to be the weak point of the presentation. There is just no structure at all to it. With no agreed-upon idea of what the tasting is supposed to illustrate, the three leaders tend to ramble on from one subject to the next with no direction. The historian, the master distiller, and the specialty writer each seem to be discussing subjects at their own level, speaking in trade jargon that no one else understands. Chuck, who is experienced at directing information toward an audience, valiantly tries to guide and focus the conversation a bit. But the people at our table seem to be quickly overwhelmed by the experience.
Following the tastings is an "exam", in which an unknown whiskey is poured and we are supposed to place it into the correct category. It turns out to be one of the wheated Old Rip Van Winkle bottlings, and we're surprised that John is the only one to get it correctly. The evening ends with an in-depth tour of the museum.
---
Tonight is basically the final night for partying.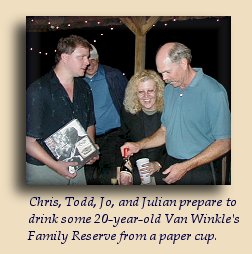 Linn and Vickie's motel room quickly becomes both too full and too noisy for comfort and good neighborliness, so we begin moving everything out to the gazebo. Now, the gazebo's not quite empty; there's a couple, Peggy and Todd Forbes, who are sitting in there, just relaxing from the day and smoking cigars when we begin to descend upon it. They've come here for the bourbon festival, but they probably weren't anticipating getting caught up with this mob. Nevertheless, within only a few minutes they become part of the party (and have since joined and contributed to the online forum). It's a little reminiscent of the scene from Bonnie and Clyde where they kidnap Eugene and Velma.
Linn and Vickie, Greg and Jo, Mike, Omar, Chuck, and Bill are all here. We had seen Kris and Chris earlier, dressed in their evening wear. They're attending the formal Black Tie Gala, which we did last year, and we hoped they'd join us afterward, but we don't see them again this evening. We do see some others, though. Chris and Cathy Sigmon are among them.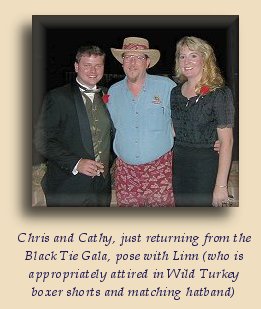 Chris was a major buyer at the auction this afternoon and they're having the time of their lives. Julian Van Winkle had been with other people when they returned from the Black Tie Gala, but he changes into more casual clothes and joins us soon afterward.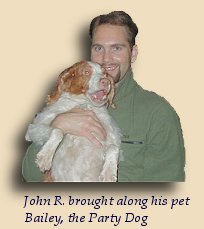 John Roberts, another who we've met online, has arrived from Tennessee just in time to catch the end of the festival. He is accompanied by his dog Bailey. Bailey is named for the Irish Creme cordial her coloring resembles and she is a true party animal.
Tonight the party continues on into the early hours. As we're leaving, only John Roberts and Greg remain. Greg (more than a little inebriated) has decided that now would be just a fine time to set up his laptop computer out on the gazebo table and write an article to the New York Times. And we believe he could do it, too...
... if he could only feel his fingers.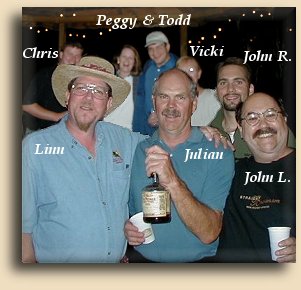 SUNDAY - SEPTEMBER 16, 2001
This morning we said goodbye to as many friends as we could see. We have breakfast at the Stephen Foster Buffet with Bill and then the three of us walk over to the festival grounds to see if we can find Sam Cecil and get him to autograph our copy of his book. We talk to Colonel Masters again while waiting and eventually Sam does arrive and signs our copy. We also visit awhile with Jimmy Russell and he signs an article written about him in the current edition of Whisky Magazine.
We drive home this afternoon. As we return to the "real" world, we have a feeling of anxiety over the changes that have so suddenly taken place. But then we get home...
We open the door;
Soft fur brushes our ankles.
Three tails stand straight up.
Meow!
Some things don't change.