American Whiskey
August 24, 2006: Annual Filson Historic Society Fundraiser
Old Forester Bourbon - A Taste of Yesterday, Today, and Tomorrow.
WE ALL LOVE a good story, and whiskeymakers are some of the best storytellers around. No matter who you are, or how busy a distiller might be, if you ask him a question there's nothing he'd rather do than sit down and talk for hours about making whiskey. Or about fishing, turkey shooting, basketball, how to smoke a ham, or anything else. It really doesn't matter whether the distiller is wearing overalls and a floppy hat or a business suit and necktie. We've seen Chris Morris both ways. Well, maybe not the hat.
Readers who have followed our zig-zag course through the maze of American whiskey-related sites and events are likely to be familiar with Chris Morris. Chris is the new Master Distiller and spokesperson for Brown-Forman's distilleries, having succeeded Lincoln Henderson just a little over a year ago. We say "new" with a big smile on our respective (and respectful) faces because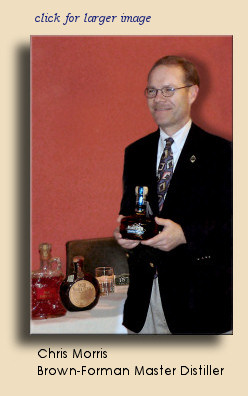 Chris is neither new to the bourbon industry nor to Brown-Forman. A scholar whose first after-school jobs were at Brown-Forman, where his father was employed, Chris worked for that company for over eleven years, then took a position at the Glenmore distillery. When Glenmore was acquired by United Distillers Chris was given the role of Bourbon Portfolio Brands Development Manager. His assignments involved developing new bourbon brands, designing and directing sales and trade programs, and serving as United Distillers' bourbon brand ambassador on a global basis. These are basically the same tasks that have come to be associated with the title Master Distiller.
Both Glenmore and United were voracious absorbers of smaller brands, often including their facilities and existing stock. As he acquired background knowledge of them, Chris became fascinated with the history behind those brands and of bourbon whiskey in general. It was at this time that he began working closely with Michael Veach, archiving reams of historic industry documents for United. Mike and Chris were both bourbon hobbyists, even outside of their career roles, and they brought their combined knowledge to the development of several innovative brands. As a team, they were instrumental in designing United's entry into the small-batch market with the Bourbon Heritage Collection, and were also developing super-premium bottlings commemorating long-deceased brands the company had acquired, such as Henry Clay and Joseph Finch. In the late 1990s, however, prior to being absorbed itself by the Diageo Corporation, United Distillers became less oriented toward developing American whiskey brands. In preparation for Diageo, it sold off most of its bourbon business leaving Chris and Mike (along with many others, of course) to seek new employment. Mike took a position with the prestigious Filson Historic Society, officially archiving special collections, but unofficially as an expert on bourbon whiskey -- a subject that is particularly important in the history of Louisville, both industrially and socially.
Chris found it easy to return to his former home with Brown-Forman, where he became the choice to succeed Master Distiller Lincoln Henderson. His first job, in 1976, had been as a lab trainee for Lincoln; now he became his understudy for over six years, finally assuming the Master Distiller position when Lincoln moved on to become an ambassador for Japan's Suntory brand.
Although Chris has at least as much hands-on whiskeymaking knowledge as other Master Distillers, his orientation toward the history of his brands makes him especially interesting to us, and that's probably why we've seen Chris so often. You can read more about him, and about the unique and effective way he demonstrates his material, in our 2003 story about the Woodford Reserve Bourbon Academy.
The Brown-Forman Company is one of the Kentucky bourbon industry's most important members. They operate three distilleries, one in Woodford County, one in Tennessee, and one in just down the street in the adjoining community of Shively. Their corporate headquarters are located here in Louisville. The Brown family have been important and influential members of Louisville society for generations.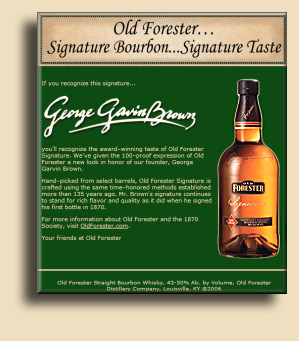 The Filson Historic Society, like all non-profit organizations, depends on various fundraising activities for its expenses, and when Mike Veach is called upon to organize such an affair, you can count on it being tied in with the world of bourbon whiskey (yes, it IS a tough job but someone has to do it). So this year when Mike asked Chris about putting on a tasting of some antique Old Forester bourbon from the '50s, he knew his friend would do a nice tasting. It came as a most pleasant surprise when the Brown-Forman organization came back with an offer to present a full tasting and comparison, with not only examples of historic Old Forester bourbons, but also their recently rejuvenated current product -- Old Forester Signature -- and "a surprise", to be announced later. Then they informed Mike they would do that at absolutely no cost to the Filson.
And so, here we are in Louisville. Or rather, here John is in Louisville. Although whiskey has long been used as medicine, and as we shall learn, Old Forester owes its fame to that fact, it is not always the best thing for a sore throat and fever. And that's what Linda is suffering from today. John, whose reputation for timeliness is, shall we say, less than stellar, manages to arrive with time to spare.
Most bourbon tastings are, for very practical reasons, not large affairs, and this one is no exception. The tasting tonight is being presented at the Filson Historic Society in Louisville, in a room that seats about fifty people, and it's sold out. This is the same room where we attended the One Hundred Years of Bottled-in-Bond event in 2001. Lincoln was the guest speaker that evening.
Chris isn't the only familiar friend making a presentation here tonight. Author and frequent whiskey panelist Chuck Cowdery is also here. In addition to just being a great bourbon whiskey enthusiast, Chuck's relationship to whiskeymakers includes having served the industry for nine years as a marketing professional. Tonight he speaks to us about the fascinating history of bourbon advertising.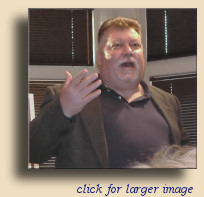 Beginning with a rare advertisement dating from before George Forman's involvement, when the company was known as Brown-Thompson, Chuck points out that originally an ad such as that would been targeted at grocers and tavern keepers, since whiskey was typically sold wholesale by the full barrel. Individual consumers would bring their own container to be filled from the barrel. Sometimes the grocer or liquor dealer would provide jugs, and often these had the dealer's name or the distiller's name printed in the glaze. There was, of course, no guarantee that what was dispensed was what the consumer thought he was buying. In many cases the barrels were refilled with cheaper goods. The resultant inconsistency and untrustworthiness was an especially difficult problem for physicians who prescribed alcohol for their patients. Alcohol (specifically whiskey) was one of the few medicines available, and with no way to be certain just what a patient would get when they bought it made it difficult or even dangerous to prescribe it. (note: we're talking here of real prescriptions for what was accepted as real medicine at that time, not the phony prescriptions for drinking whiskey that became popular during prohibition).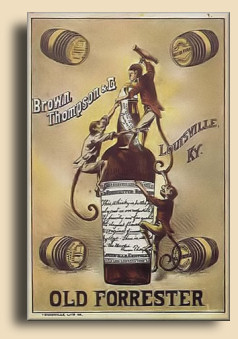 Think of what it would be like if you went to give your child a spoonful of cough medicine and had no way to tell if it was children's or adults or narcotic or half-strength, double-strength or what.
Chuck explains to us that the importance to the story of Old Forester is that it was that brand's solution to the problem, and the success of its marketing, that forever changed the way products were packaged and sold. Glass bottles have been in use for centuries, but until Michael Owens' invention of automated bottle-making machinery in the early 1900s, they were hand-blown and relatively expensive. Although often occasionally employed as an attractive way to display their contents, they were too expensive for common use. Glass bottles were thought of as a premium packaging method rather than any kind of quality control. Chuck jokes that in the REAL wild west if someone intentionally broke a precious bottle, as they often do in movie bar fights, facing the wrath of the bartender might have been worse than that of the bad guy!
George Garvin Brown was a liquor dealer in Louisville when the Old Forrester brand was created. The Old Forester website makes no mention of that, and describes him only as a "young pharmaceuticals salesman". Which he was, prior to 1870. In our own research, we found a letter quoting Joshua Speed Forrester that George Brown had named the brand for his father, Dr. William Forrester. Brown had been "a pharmaceutical representative who called on the doctor's office in 1867-1870".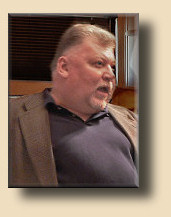 Nor, we have also found, was that product Brown's first brand of whiskey. Old Forrester was first marketed in 1873, not 1870 as claimed in the company profile, and at that time J.T.S. Brown and Bro. were selling (in barrels) whiskeys named Mellwood Bourbon, Atherton Bourbon, Sidroc Bourbon, Major Paul's Widow McB, and Larue's Best.
What Brown did in creating their Old Forrester brand was to package it in glass bottles, sealed at the distillery. There was really nothing new about that; several distillers and marketers sold whiskey that way. As Chuck emphasizes, the difference was that Old Forrester was packaged exclusively in distillery-sealed bottles. Thus ensuring against any tampering with the product's integrity. If the seal was intact, and the label said "Old Forrester", the customer knew it was as pure as when it left the hands of the Brown brothers. Of course it immediately became the favorite of doctors and pharmacists (well, honest pharmacists, anyway). But Brown then took that professional approval directly to beverage alcohol consumers in the marketing and advertising of his product.
Chuck shows us an example of another early Old Forester advertisement showing a gunfighter outdoors in the great American desert, crouched next to a case of Old Forester Bourbon and a grossly oversized bottle, and firing his six-shooter at, presumably, desperados bent on taking it from him.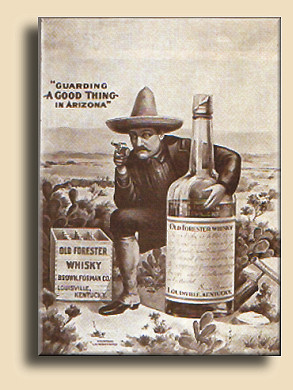 Whether he is protecting the bottle or seeking shelter from it isn't clear, but what is clear is the location. It's obviously Arizona, as an audience member replied when Chuck asks us where this ad was marketed. The picture on the right is from the Brown-Forman corporate history files and actually says, ".. .in Arizona", but the sample displayed here at the Filson might not have included that line. It turns out, as Chuck explains to us, that the very same ad would suggest Utah, or New Mexico, or Nevada when it was published in those states. Although he doesn't mention it, one can imagine that such an image (with appropriate western state names) would have played well in New York, Philadelphia, Baltimore, and other eastern locations where the Wild West was romanticized.
Chuck's presentation is brief. Too brief as far as we're concerned, but that's show biz... always leave the audience wanting more.
Chris' part of the tasting is, naturally, the tasting itself. In front of each us we find a printed and laminated placemat, upon which sit two large glasses and four small ones. Also a souvenir Old Forester shotglass and a bottle of drinking water. The glasses have been pre-poured, with each of the small glasses resting on a spot on the mat which is labeled "1953", "1956", "1957", and "1959". On the right and left are larger glasses.
Our tasting adventure begins with a tasting of the current 100-proof Old Forester Signature Bourbon.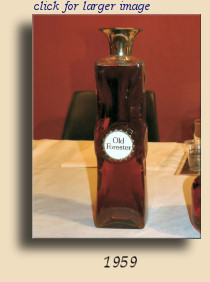 This is not actually a new bourbon, but rather a new packaging of the same fine product Brown-Forman has been producing for many, many years. It's lineage includes the other bourbons we will be tasting tonight. The purpose of the new name and label is to renew customer interest and, hopefully, to increase sales. It is, as Old Forester has always been, a top-quality bourbon that would easily be right at home with much higher-priced brands. One disappointment to us is that, with marketing and advertising being the theme of Chuck Cowdery's presentation, we would have enjoyed a discussion between them of the company's current ideas in marketing this product.
As we taste each of the early versions of Old Forester, Chris tells us a little about them, one by one. The 1959 Old Forester was poured from an elegant glass decanter with a goldplated cap and sweeping vertical lines that captures the feel of the atomic fifties and also the space-age sixties to come.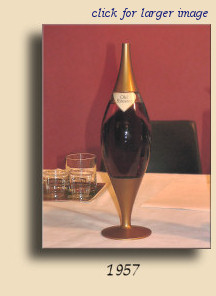 The 1957 Old Forester was poured from a bottle that was eerily preminiscent of the next decade's lava lamps. This whiskey, and all the '50s bourbons we are tasting, has the rich "old-style whiskey" flavor that we particularly love. Not everyone does; as we discussed the flavors the words, "cork taint" and "butterscotch" can be heard. We didn't notice any of the first, but butterscotch might be a way of describing the (to us desirable) flavor once common in bourbon and which we no longer find in today's products.
The 1956 bourbon was poured from an example of the type of bottle Old Forester was using as their "special bottling" from the very early fifties (or before) up until the sixties. This is a hand-blown style of bottle, made to look as though it were from the 1800s. A customer could order such a bottle with a back label stating that it was bottled especially for (whoever the recipient would be). Most distilleries offer such a feature today. Woodford Reserve, another Brown-Forman product, is available today that way. The special bottling version comes in an exclusive wooden display holder and is labeled similarly.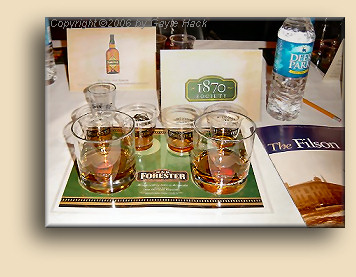 The whiskey inside the bottle is no different than the regularly released product, but in the case of the 1956 Old Forester, that was a wonderful product indeed! It is fascinating that Old Forester (and who knows how many others) was doing this fifty years ago (at least). It is a marketing technique with a long history in the world of beverage spirits. Again, a discussion between Chris and Chuck during this time would have been really appropriate and interesting.
The 1953 Old Forester was poured from an ornately molded glass decanter of the type which became known as the Holiday Decanters. These were released annually at Christmastime, with each bottle being designed exclusively by Raymond Loewy, the designer of the Coca-Cola bottle and the Mobil Pegasus logo *.
The Holiday Decanters were discontinued many years ago, but the tradition of releasing something special on an annual basis lives on with Old Forester. In 2002, Chris was asked to select a special bottling to celebrate founder George Garvin Brown's 156th birthday, September 2nd. Typically he chose, not necessarily the best whiskey available (although it was certainly an outstanding example), but the most interesting. And in advertising and on the bottle's hang tag (that little pamphlet that's tied around the neck, the one you probably throw away without reading?) he describes just what made that selection so interesting. The next year he repeated the offering, only this time using a whiskey with a quite different character. And this time the hang tag explained WHY it was different. That's so Chris Morris, and no one else in the industry markets their whiskey quite like that.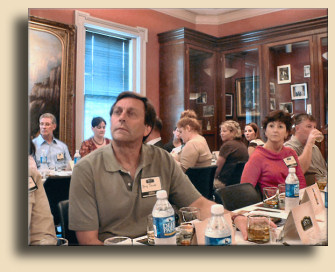 The next year he offered us TWO Birthday Bourbons, one aged in the lower middle of the warehouse, the other aged (a season less) in the upper extreme corner. Only Chris Morris would commit his company to such a double expense, and with the risk of confusing some customers, just to delight their core fans; but that's what he did. And how many companies would support such a decision as Brown-Forman did. Good for them! And delighted we are. He has continued doing this every September, and 2006 is no exception.
Which brings us to this evening's unpublicized "surprise". The other large glass in front of us contains a share of what he had poured from the very first bottle of 2006 Old Forester Birthday Bourbon to be opened.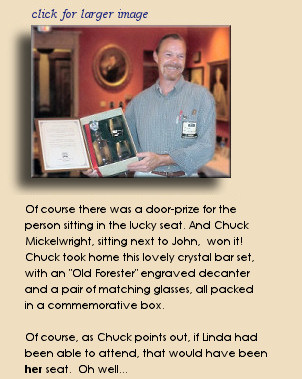 In the world. Period. It wasn't opened for Malt Advocate Magazine. Nor for Whisky Magazine. Nor at WhiskyFest, or any other presentation to major trade or media folks. It was opened for the guests who attended the Louisville Filson Historic Society fundraiser this evening. Mike Veach says Brown-Forman is one of Louisville's premier corporate citizens and it's easy to see why.
When we attended Chris' Bourbon Academy seminar, the teaching concept that most stood out for us was his use of "similarities and differences". And in his selection of what will be the Old Forester Birthday Bourbon for a given year, Chris stays true to that idea. The 2006 Birthday Bourbon is similar to each of the other years, in that it is noticeably different from the normal Old Forester bourbon. And it is different from each of the other Birthday Bourbons in that Chris has used a criteria for selecting the barrels that is intentionally different from what he's done before. And again, he tells us so on the neck tag.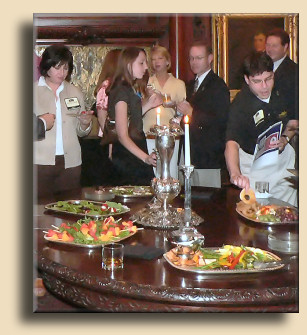 And that way one can, over the years, collect one's own extremely informative bourbon tasting, just from the annual Birthday Bourbon releases.
The evening at the Filson closed with hors d'ouvres and conversation. Some of us, including Mike, Chuck, Chris, Old Forester's plant manager, Glen Glaser, Woodford Reserve's distillery manager, Dave Scheurich, and Brenda Piercefield, our favorite bourbon detective, ended up at the Bourbons Bistro restaurant in Louisville's Frankfort district for a late supper and intense conversation. A cellphone call to home assured Linda that all was well here, but her throat was still too sore to say hi to everyone. Still, what a great evening it was!
---
[return]
As we were researching this page, we found that there is some controversy over who actually created the original Coca-Cola bottle. Why would that be any surprise, considering the information we get about whiskey? The official version from Coca-Cola is that the familiar Coke bottle was designed by Alexander Samuelson, although Loewy is credited in some alternate claims. The Mobil Pegasus logo was inherited from Socony-Vacuum Oil Co. when it became Mobil Oil. We couldn't find out who designed it, but the symbol had been used by the Standard Oil Trust since the 1800s and none of the writings on Raymond Loewy mention it. He did design many corporate logos, including that of Shell Oil. Another thing Raymond Loewy designed, and for 1953 in fact, was the Studebaker Silver Eagle, perhaps John's all-time personal favorite classic automobile. That's good enough for us. Besides, we prefer Dr. Pepper, thank you very much, and never with bourbon! [return]